Liris Crosse on 'Project Runway' diversity and being a trailblazing black, plus-size model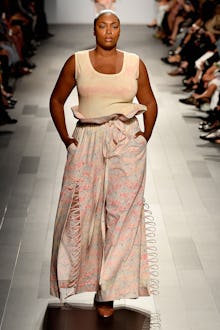 Liris Crosse first became known to Project Runway fans in 2015, when she walked in season winner Ashley Nell Tipton's historic all-plus-sized New York Fashion Week show. As the only black plus-size model who walked in that show, Crosse made an impression.
Now after this most recent season of the show, which wrapped up Thursday night with the show's reunion, consider her a Project Runway star. She even finished the season as one of the model winners for an upcoming Marie Claire spread.
Because of a new segment on the show called "Model Mirror," which gave the models — who were various sizes for the first time in PR history — an opportunity to talk about the clothes they had to walk in, fans became endeared to the enthusiastic, sweet and clearly knowledgable model who's been in the industry longer than many of the designers she had to wear.
If you checked her Twitter feed during any of the show's episodes, you'd see a constant stream of support and back-and-forth between Crosse and her fans, who rooted for her to wear the best designs.
Given how long Crosse has been a plus-size model, she's obviously got her own thoughts about this recent body positivity boom on the runways, so when Mic sat down during the show's run, we talked Project Runway, her beginnings as a model and how she feels as a constant fighter for a more inclusive fashion future.
You can see some of the highlights below:
On Project Runway's diversity
This is the thing I really appreciate about 'Project Runway.' Not only is it diverse with size, they have different body types and different sizes within the straight size as well as the plus size. They have pear-shaped, they have hourglass, they have straight up and down. They have it all on the show. They have black. They have white. they have different degrees of black. They have Latina. They have Asian."
On her starting out as a plus model
I remember me just being a young girl moving here from Baltimore and wanting to model. I wanted to do the same stuff that all the straight-sized girls were doing. I can remember going to castings where I was a size 8/10 and people were looking at me like I was the cow in the room or like, why is she here?
On often being the only curvy model at a show
There have been multiple times that I've walked for designers and I was the only plus-sized model in the show, and it's usually because they had something that was either really billowy or had a lot of stretch to it, so they would add me to the show.
A lot of times you're walking in those shows for free, cuz you're just trying to get that chance.
On what designers can do to be more inclusive
When I now see designers are saying, "OK, yeah I made a sample in a size 2, and here's one in a 6 and here's one in a 14 and here's one in an 18 and here's one in a 20," these are the things that are shaking up the game and showing that this new generation of designers — and some of the older designers too — are opening themselves up to size diversity and seeing women in all their glory.
On what designers still have to realize
We don't just come in a size 2. We don't just come in a size 4. Some of us don't have much breast. Some of us have butts. Some of us don't have hips. Some of us have a lot of hips. I appreciate that they're expanding their minds to the power and beauty of women on the runway. I'm totally impressed by this last season of New York Fashion Week, but I need this to flow over into California Fashion Week, into Paris and Milan.
What body positivity felt like in the past
It felt like it was four steps forward, two steps back. You would get excited because, oh this designer used a couple plus models in the show. Then the next season they didn't use any plus models at all. Now we're seeing designers repeatedly do it. These past few years have really rushed forward with change because of social media.
The grade she'd give the fashion industry right now
I would say B- or C+ because we are having change, but my thing is I don't wanna get my hopes up too high. Because it's like, OK we have this change now, but are you gonna do this next season? And how many more designers are gonna catch on and do this?
Once I start to see it be a regular thing where we're not surprised, then I can give it that A.