What caused Republicans to hit a snag on their tax bill? Let them tell you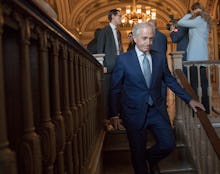 Welcome to Mic's daily read on Donald Trump's America. Want to receive this as a daily email in your inbox? Subscribe here.
Friday's dispatch: What slowed down the Republican tax bill?
As the Senate Republican tax plan moved toward what appeared to be inevitable passage, Sen. Bob Corker (R-Tenn.) pumped the brakes on the legislation.
Along with Sens. Jeff Flake (R-Ariz.) and Ron Johnson (R-Wis.), Corker strolled into the Senate chamber to take a simple procedural vote. Democrats had, for the third time, proposed returning the tax plan to committee. Republicans had already voted the measure down twice.
Suddenly, Corker, Flake and Johnson withheld their votes. And for an hour on Thursday afternoon, the fate of the tax plan was unclear.
Corker, surrounded by a group of Republicans trying to calm his concerns, marched between various senators with a simple question: How will we pay for this bill?
"We have a tax increase, we don't want to address Sen. Corker's concerns," Sen. John Cornyn (R-Texas) told reporters waiting outside the Senate on Thursday. On the Senate floor, Cornyn spoke so loudly in the usually hushed Senate that reporters could overhear him: "We're going to add more taxes to the bill to make it revenue neutral," Cornyn, visibly frustrated, said to Sen. Angus King (I-Maine), an Independent senator who had been lobbying Corker.
So what does this mean?
A nonpartisan analysis of the bill released Thursday did not bear good news for Republicans. The report indicates that, even with new economic growth created by tax cuts, the GOP plan would still increase the deficit by $1 trillion over 10 years.
Corker, Flake and other Republicans repeatedly worried tax cuts of $1.4 trillion would not pay for themselves with predicted economic growth. The score confirmed that.
Now, Republicans are rewriting the bill to find a way to raise $500 billion in revenue. One option is automatically increasing the corporate tax rate over time, to cover about one-third of the projected budget hole created by the slashing of the corporate tax rate from 35% to 20%. Another notion is to reinstate a minimum tax on the income of the wealthy and corporations.
It's unclear if President Donald Trump or House Republicans will support that proposal. It's also riling other Republican senators. "Fifty-one senators want to cut taxes," Sen. Ted Cruz (R-Texas) told Bloomberg. "One wants to raise taxes. That's not right." But the move to placate Corker was clearly necessary to keep the Senate legislation alive. And it still may not be enough.
"I'm not saying I'm voting for the bill, but [this change] is in it," Corker said of increasing revenues after he left the Senate floor during those negotiations on Thursday.
Consideration of the Senate tax plan will continue Friday morning. Republicans still hope to pass their legislation, likely with no Democratic votes, by the weekend.
Today's question: Do you think Republicans will pass their tax plan?
Please email trumpsamerica@mic.com with your thoughts.
Friday in Trump's America:
Tax reform: It all comes down to this. We will be monitoring developments on Friday.
In the meantime, you can read this Mic story about Republican senators who could not specifically explain how corporate tax cuts will create jobs or help workers. Also, the opposition to the GOP plan has put senators "under siege" on Capitol Hill.
What's scaring Democrats: The "tax bill could trigger historic spending cuts." Funding for Social Security, Medicare, Medicaid, education and more could be on the chopping block in future years to pay for tax cuts.
Government shutdown: President Donald Trump is privately telling his advisers he believes the federal government shutting down would be good for him politically, as he is focusing on his hard-line stance on immigration.
The chair of the Congressional Hispanic Caucus said Thursday, "I'm not interested in bills" that do not protect DACA recipients. Democratic opposition to passing a year-end spending bill without protecting immigrants who came to the U.S. as children is growing.
Republicans are hoping they can pass a two-week measure to fund the government between Dec. 8 and Dec. 22. In that time, they hope to hammer out an agreement that will win over some Democrats (they need eight in the Senate) and increase military spending.
CHIP: The federal health insurance program for children must be reauthorized by the end of December. Congress let the program lapse earlier this year, and states are keeping the insurance afloat until early 2018. In Texas, parents are crying over the prospect of losing health care coverage for their children.
Russia investigation: Senators said Trump repeatedly asked them this summer to end their investigation into Russian interference in the U.S. presidential election.
Tillerson: The White House leaked plans Thursday to remove Secretary of State Rex Tillerson to embarrass him, CNN reported, with Trump hoping Tillerson will now leave on his own.
CIA Director Mike Pompeo is considered the likely replacement for Tillerson, and Sen. Tom Cotton (R-Ark.) would reportedly replace Pompeo — triggering another special election in a conservative, Southern state.
Roy Moore: The Alabama GOP Senate candidate challenged late-night host Jimmy Kimmel to a fight on Twitter. Kimmel accepted, and says he will come to Alabama.
The latest polling in Alabama shows Moore regaining a clear lead over Doug Jones, his Democratic opponent.
Under the radar:
Stories you may miss elsewhere.
Conyers vs. Franken: Members of the Congressional Black Caucus are wondering why calls for Rep. John Conyers (D-Mich.) to resign are far louder than calls for Sen. Al Franken (D-Minn.) to resign.
Paul Manafort: The indicted former Trump campaign chairman has reached an $11 million bail deal with prosecutors.
Today's MicBite:
Alabama Senate candidate Roy Moore says there are various groups to blame for the allegations against him. Some of them may surprise you. Click or tap the video below to watch.