Michael Flynn pleads guilty to lying to the FBI, admits Trump team knew about Russia contacts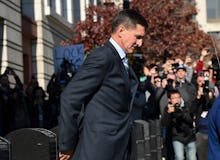 Michael Flynn — President Donald Trump's former national security adviser — pleaded guilty Friday to a charge of making false statements to the FBI about his contacts with Russia.
Flynn "willfully and knowingly" misrepresented December 2016 contacts he had with then-Russian ambassador Sergey Kislyak, according to a court filing released by special counsel Robert Mueller Friday morning.
The former high-ranking Trump associate discussed United States sanctions against Russia with Kislyak before Trump entered office, according to Mueller, and asked the then-ambassador to "delay the vote on or defeat a pending United Nations Security Council resolution."
The discussions with Kislyak took place while former President Barack Obama was still in office.
Prosecutors say Flynn was directed by a "very senior member" of the Trump transition team to reach out to other countries in order to influence the U.N. vote.
Obama placed sanctions on Russia in December 2016 over the Kremlin's interference in the U.S. presidential election.
The retired general was ousted from the administration less than a month into Trump's presidency over his contacts with Kislyak and has been a focal point of Mueller's Russia probe since.
He has been heavily scrutinized for his past work on behalf of foreign governments, such as an investigation into an alleged plot for Flynn and his son to kidnap a U.S.-based Muslim cleric and deliver him to Turkish authorities.
Flynn was a prominent figure on Trump's campaign and had even been floated as a potential running mate. He is regarded as being close to the president and may have remained in contact with him after leaving the White House in scandal.
Trump has not yet commented on the charges, but has in the past publicly expressed his support for the retired general.
He also famously made an apparent attempt to get then-FBI Director James Comey to kill the investigation into Flynn, telling him that he hoped he could "let this go."
The special counsel's announcement Friday came less than a week after it was revealed that Flynn's legal team had cut off communications with Trump's, which was taken as a sign by many that the retired general was cooperating with Mueller's investigation.
Patrick Cotter, a former federal prosecutor, told Mic in an email Friday that the charge against Flynn is an "extremely strong indicator" that he is cooperating with Mueller.
"A [false statement charge] is classic for a cooperator," Cotter said. "It is serious enough to give the government leverage and credibility ('We did not give him a free pass,') but low enough on the scale of serious crimes to allow for a light sentence if his cooperation proves truthful and valuable."
Flynn is now the fourth person known to have been charged with a crime as part of Mueller's Russia probe.
In late October, Paul Manafort — Trump's former campaign manager — and his associate, Rick Gates, were indicted on 12 counts, including conspiracy against the United States. It was also revealed that George Papadopoulos, a former foreign policy adviser to the Trump campaign, had pleaded guilty to a charge of lying to the FBI about his contacts with Russians.
In a statement, Flynn said "it has been extraordinarily painful to endure these many months of false accusations of 'treason' and other outrageous acts." But he added that he accepts "full responsibility" for "the actions I acknowledged in court today."
An administration spokesperson told CNN early Friday that the White House "is not going to respond to this. Trump lawyer Ty Cobb issued a statement saying "nothing about about the guilty plea or the charge implicates anyone other than Mr. Flynn."
This is a developing story and will be updated.
Dec. 1, 2017, 11:41 a.m.: This story has been updated.