In the wake of recent mass shootings, pro-gun legislation is still making its way through Congress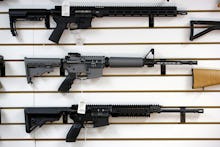 Weeks after the shooting in Sutherland Springs, Texas, and two months after the mass shooting in Las Vegas, a piece of gun legislation is making its way to the House floor that would expand access to the deadly weapons.
Republicans in Congress are planning to bring the Concealed Carry Reciprocity Act of 2017 to the House floor in the "near future," the Hill reported Friday, after the bill was passed by the House Judiciary Committee. The bill would allow gun owners with a concealed carry permit to bring their firearm into states that have their own concealed carry laws, ensuring that gun owners can bring their guns to any U.S. state "as long as they have a permit, a photo I.D. and follow the state's gun laws," according to the Hill.
Though gun control advocates have argued that the bill would limit the authority of states that would rather restrict concealed carry, the Hill notes that Congressional leaders believe the bill has enough support to come to the floor. While the Senate would be a tougher hurdle to clear, as the bill would require a 60-vote majority, several Democrats have signaled that they may be open to supporting the measure.
"I'd be inclined to support it, but I've got to look at it," Sen. Jon Tester (D-Mont.) told the Daily Beast. "I think it makes things a lot more simpler [sic] for folks, but, like I said, I haven't studied the bill. Haven't really done my due diligence on it."
The bill also would have a bipartisan angle by being combined with an effort to improve the National Instant Criminal Background Check System, the Hill noted, whose failings contributed to Sutherland Springs shooting suspect Devin Kelly's ability to purchase a firearm despite past domestic violence charges.
While the recent mass shootings have reignited the debate over gun control, the Concealed Carry Reciprocity Act's ability to move forward is the latest instance of Congress pushing to expand gun rights even as the majority of Americans want stricter controls. With gun control back in the spotlight, however, there does appear to be an effort in Congress to push for more restrictions — even sometimes from Republicans and bipartisan coalitions.
Here are some of the current pieces of gun control legislation currently making their way through Congress on both sides of the gun control debate.
Pro-gun legislation
In addition to the Concealed Carry Reciprocity Act, the other current piece of gun legislation that has a good chance of making it through Congress is the Sportsmen's Heritage and Recreational Enhancement Act, a sweeping bill whose purpose is "to provide for the preservation of sportsmen's heritage and enhance recreation opportunities on Federal land, and for other purposes."
Included in the bill are several provisions that would expand gun rights, NBC News noted, including "loosen[ing] regulations on the sale of armor-piercing bullets, expand[ing] gun rights on public lands and shield[ing] people transporting guns across state lines from local laws."
Also folded into the bill, the Atlantic noted, is the Hearing Protection Act, which would make it easier to purchase a firearm silencer and abolish a $200 federal tax on them. Though gun advocates point to the bill as a way to protect the hearing of hunters and recreational gun shooters, detractors say that the wider prevalence of silencers could make mass shootings more deadly.
"Advocates of [the Hearing Protection Act] claim it serves to protect gun-owners' hearing, a laughable assertion if the consequences weren't so serious," Rep. Mike Thompson (D-Calif.) said in a statement opposing the SHARE Act. "Silencers do not actually silence gunfire, despite what we've seen in movies, they simply disperse the sound. We've all become too familiar with mass shootings in this country, and the deregulation of silencers could take future active shooter situations from bad to worse, preventing law enforcement from pinpointing active shooters."
Though the SHARE Act currently seems to have the best chance of making its way to the Congressional floor, there are several other pro-gun pieces of legislation in the works. Following a shooting at a Congressional baseball practice, several pieces of legislation were introduced that would specifically expand gun rights for members of Congress, allowing them to carry concealed firearms throughout the U.S., with the exception of the U.S. Capitol Building.
Sen. Marco Rubio has also introduced a bill in the Senate that would expand the Second Amendment rights of Americans in Washington, D.C. The Second Amendment Enforcement Act of 2017 would restore firearm rights to District of Columbia citizens by amending the Firearms Control Regulations Act of 1975 to "repeal DC's registration requirement for possession of firearms," the Congressional Research Service noted.
Another bill, the Protecting the Second Amendment Act, was introduced in the House and Senate to specifically grant additional rights to gun dealers. The bill, which was sponsored in the Senate by Alabama Sen. Luther Strange, "prohibits subjecting a licensed gun dealer to a reporting requirement based on the geographic location of the gun dealer's business or the sale of multiple rifles or shotguns to the same person," according to the Congressional Research Service.
Democrat-sponsored gun control legislation
Though their minorities in both chambers of Congress make legislation far harder to pass, Democrats in Congress are fighting for stricter gun control measures in the wake of the recent mass shootings.
Following the shooting in Las Vegas, Sen. Dianne Feinstein was quick to introduce new legislation that would ban the sale of bump stocks, a firearm accessory that allows a gun to mimic the functionality of an automatic weapon. The device was found in suspected Las Vegas shooter Stephen Paddock's hotel room after the deadly attack.
Another fierce gun control advocate, Connecticut Sen. Chris Murphy, is seeking to expand background checks for firearm sales with the Background Check Expansion Act, which would require a check for every single firearm sale, regardless of state. The bill, Murphy conceded in an interview with Talking Points Memo, likely doesn't have much of a chance, but the Senator still believed in the importance of introducing it.
"Our movement is getting stronger and stronger. By introducing this bill we give Republicans a choice: They can sign on, they can introduce an alternative, or they can stand on the sidelines… and make this an issue in their 2018 reelection," Murphy told TPM. "There's no great social change movement in this country that didn't have failures before it had success. Putting this bill in the hopper and using it as a pressure point for the movement is part of what grows our strength."
Background checks are also being targeted by Sen. Richard Blumenthal (D-Conn.), whose bill Background Check Completion Act of 2017 seeks to prevent firearm dealers from selling a firearm before a background check has been completed. The bill would close the so-called "Charleston loophole," Business Insider noted, which enables a firearm dealer to transfer a firearm to a customer after three days if a background check is inconclusive at that time — as it was with Charleston, South Carolina, shooter Dylann Roof.
Other Democrat-backed gun control bills in Congress include legislation that would mandate a seven-day waiting period before the transfer of semi-automatic weapons or certain accessories; require a study on the link between domestic violence and mass shootings; limit access to "smart gun" technology and repeal the Protection of Lawful Commerce in Arms Act, which says that "the right of the people to keep and bear arms shall not be infringed."
Republican-backed gun control bills
While gun control has largely been a Democratic issue, there are some pieces of legislation that are being primarily sponsored by Republicans. New York Rep. Peter King is currently sponsoring a bill that would authorize the Attorney General to deny a firearm transfer or license to a "known and dangerous terrorist," while a bill sponsored by Pennsylvania Rep. Ryan Costello would require states to increase reports of domestic violence charges in order to be eligible for grants from the National Criminal History Improvement Program.
In addition to Costello's bill, another Republican-backed bill taking aim at the problems with the federal background check system is the Fix NICS Act of 2017, which is sponsored by Texas Sen. John Cornyn. The bill was introduced in the wake of the Sutherland Springs shooting and would aim to reform the National Instant Criminal Background Check System. Measures proposed in the bill, according to GovTrack, include establishing a new "Domestic Abuse and Violence Prevention Initiative;" strengthening penalties against federal agencies and political appointees who fail to report information to the system; and establishing new measures to ensure the accuracy of information already in the system.
After the link between the Las Vegas shooting and bump stocks was revealed, many Republicans voiced their support for new measures that would restrict sales of the deadly device. Though Republicans' initial concern hasn't resulted in any meaningful action, there are a few Republicans who have stepped up to propose reforms.
Reps. Brian Fitzpatrick (R-Penn.) and Carlos Curbelo have both sponsored bills taking aim at the "bump stock" loophole. Fitzpatrick's bill would treat bump fire stocks and similar devices "in the same manner as a machine gun" — sales of which are largely prohibited — while Curbelo's legislation, which he is co-sponsoring with Democratic Rep. Seth Moulton, would "prohibit the manufacture, possession, or transfer" of bump stocks and similar "part[s] or combinations of parts."
"For the first time in decades, there is growing bipartisan consensus for sensible gun policy, a polarizing issue that has deeply divided Republicans and Democrats," Curbelo said in a statement. "This common-sense legislation will ban devices that blatantly circumvent already existing law without restricting Second Amendment rights.
"I'm proud to join Representative Moulton to lead our colleagues in this important first step to address gun violence in our country and show that Congress is capable of working constructively in a bipartisan way to make Americans safer."