5 takeaways from Michael Flynn's guilty plea in Robert Mueller's Russia probe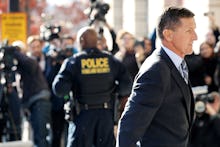 Michael Flynn — President Donald Trump's short-lived national security adviser and close ally — pleaded guilty Friday to lying to the FBI about his contacts with the Kremlin, which he admitted came at the behest of top Trump transition officials.
Here's what you need to know about the seismic developments in special counsel Robert Mueller's Russia investigation:
1. Top Trump officials implicated in Kislyak contacts
As one of the most heavily scrutinized targets of Mueller's probe into possible collusion between the Trump campaign and Russia, Flynn's indictment was somewhat expected.
But the revelation that top Trump transition officials — and possibly Trump himself — apparently directed the retired general to contact Russia and were later briefed on those talks is a major game-changer.
According to documents released by the special counsel's office, Flynn and senior transition officials discussed his phone conversations with Kislyak in December 2016.
On Dec. 22, 2016, a "very senior" member of the transition team instructed Flynn to contact foreign governments, including Russia, to determine their position on a United Nations Security Council resolution concerning Israel and to ask them to "delay the vote or defeat the resolution."
Flynn called Kislyak the same day, told him that Trump's incoming administration opposed the measure and urged Russia to vote against it.
Flynn talked to Kislyak again on Dec. 29, 2016, about sanctions former President Barack Obama imposed the previous day in response to the Kremlin's interference in the 2016 presidential election. Flynn told the Russian ambassador "not to escalate the situation" before contacting the "very senior" transition team member to describe his conversation with Kislyak. He also spoke with other senior transition officials about the call.
The revelations have cast Flynn's contacts with Kislyak in a new light.
When the national security adviser's improper discussions with the Russian ambassador came to light in February, the White House played dumb, with Vice President Mike Pence coming to Flynn's defense and saying the retired general did not discuss sanctions with Kislyak.
When that was later revealed to be untrue, Flynn resigned and apologized for "inadvertently" misleading Pence.
But Flynn's admissions indicate that at least some top Trump officials were aware of the nature of his conversations with Kislyak before he became national security adviser — and suggest other prominent figures in the Trump campaign or administration could be caught in the web of Mueller's probe.
Pence, Jared Kushner, Donald Trump Jr., Steve Bannon and Reince Priebus all sat on the executive committee of Trump's transition team.
2. Flynn phone calls influenced Russia policy
According to Mueller's investigators, Flynn appears to have directly influenced Russian policy in his contacts with Kislyak before the Trump administration came into power.
Kislyak told Flynn in a phone call that Russia would vote against the U.N.'s Israel resolution if it came up for a vote, just as Flynn had requested in their initial contact.
Russia also heeded Flynn's request to "not escalate the situation" with respect to Obama's sanctions against the country, with Russian President Vladimir Putin announcing the following day that he would not retaliate against the sanctions.
Trump praised Putin for the move, saying "I always knew he was very smart!"
3. Flynn is cooperating with Mueller
Flynn confirmed Friday he is cooperating with Mueller's investigation, saying in a statement that doing so was in the "best interests of my family and of our country."
His guilty plea came about a week after it was reported his legal team had cut off communication with Trump's in what was widely interpreted as a sign he was playing ball with the special counsel.
According to ABC News, that cooperation may mean testifying that Trump himself instructed Flynn to contact Russia.
4. Many questions remain unanswered
Friday's revelations have raised new questions about Donald Trump Jr.'s infamous 2016 meeting with Russia-connected lawyer Natalia Veselnitskaya.
Trump Jr. — the president's eldest son — discussed U.S. sanctions against Russia with the attorney during the meeting, which he had apparently taken under the belief she had Kremlin-collected dirt on Democrat Hillary Clinton.
Veselnitskaya said in a recent interview that Trump Jr. hinted at a possible quid pro quo in the meeting, suggesting his father would review the Magnitsky Act if elected.
The announcement of Flynn's guilty plea also raised new concerns about the president's actions around the time Flynn lied to FBI investigators in January.
Sally Yates, the former acting attorney general, said in May she warned the White House that Flynn could be compromised by Russia. She was fired shortly thereafter, on Jan. 30, less than a week after Flynn made false statements to the FBI.
Around the same time, Trump also asked then-FBI director James Comey for a loyalty pledge and requested he kill the investigation into Flynn. He fired Comey in May.
5. Russia probe now reaches the White House
It's not clear who, exactly, knew about Flynn's contacts with Kislyak, nor is it known if the president himself was involved in or aware of the discussions — but Friday did mark the first time Mueller's investigation brought down an administration official.
Paul Manafort, Trump's former campaign manager, and his associate Rick Gates were indicted in October, but none of the 12 charges were directly related to Russia. A former foreign policy adviser to the campaign, George Papadopoulos, pleaded guilty to lying to the FBI over his Russia contacts, but the White House quickly dismissed him as a "low-level" campaign volunteer.
Ty Cobb, the lawyer handling the White House response to the Russia investigation, minimized Friday's developments in a statement, saying Flynn's plea doesn't implicate "anyone other than Mr. Flynn."
"The conclusion of this phase of the special counsel's work demonstrates again that the special counsel is moving with all deliberate speed and clears the way for a prompt and reasonable conclusion," he said.
But Flynn's cooperation and previous statements to the FBI indicate that other Trump officials, and possibly the president himself, have already been implicated — and that the probe is nowhere near ending.