New York City just voted to ban conversion therapy, but other places aren't making the same progress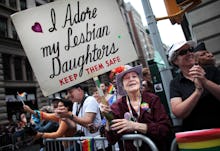 On Thursday, the New York City Council overwhelmingly voted in favor of a law that would ban so-called conversion therapy in the city. The the bill passed 43-two, and now heads to the desk of Mayor Bill de Blasio, AM New York reported on Thursday. A spokesperson for the mayor called the practice of conversion therapy "barbaric" and told Mic that the mayor's office was currently reviewing the bill.
If it signed-into law, practitioners of conversion therapy, or the debunked practice of trying to change a person's sexual orientation or gender identity, could be fined tens of thousands of dollars if they attempt to offer the service in New York City. The legislation would mark a major step forward in the campaign to end the practice, which has been widely discredited by medical professionals.
However other locales aren't making the same progress towards ending the practice of so-called conversion therapy, which is still legal in most states. In fact, in October, attempts to ban the practice for minors in Miami-Dade County, Florida were voted down by local commissioners who said such a ban might infringe on parents' rights to make decisions about their children.
The harmful effects of conversion therapy
The World Psychiatric Association has criticized conversion therapy as both ineffective and potentially harmful to its recipients. In 2016 the WPA released a statement saying that "there is no sound scientific evidence that innate sexual orientation can be changed" and that "The provision of any intervention purporting to 'treat' something that is not a disorder is wholly unethical."
The American Psychological Association has also condemned the practice and has vocally supported efforts to end it — 2015 APA president Barry S. Anton said that "so-called reparative therapies are aimed at 'fixing' something that is not a mental illness and therefore does not require therapy. There is insufficient scientific evidence that they work, and they have the potential to harm the client."
In a statement to Mic on Friday, Xavier Persad, legislative counsel for the Human Rights Campaign said that it was " abundantly clear that conversion therapy poses devastating health risks for LGBTQ young people including depression, decreased self-esteem, substance abuse, homelessness, and even suicidal behavior." Persad called on legislators to "to protect LGBTQ youth and their families from these abusive and fraudulent practices."
New York City Councilman Danny Dromm, who sponsored the bill to ban conversion therapy, called the practice "a form of psychological torture — plain and simple," AM New York reported.
Some efforts to ban conversion therapy have been unsuccessful.
Miami-Dade legislators rejected a proposed ban on conversion therapy for minors, the Miami Herald reported in October. The city of Miami had already enacted a ban on the practice, but supporters of the October effort had hoped to extend protections by banning counselors throughout Miami-Dade.
However, commissioners voted against the ban by a vote of 4-7, the Miami Herald reported. The vote came after "public testimony, most of it from opponents of the proposed ordinance," and the Miami Herald called the "no" vote a "significant victory for the churches and advocacy groups fighting the restrictions across the county."
Local pastor Robert Myers framed the issue as one of "freedom," telling the Miami-Herald that "I am against the idea that you can come into the home of a person, or a pulpit of a church, and say they are the things you cannot talk about."
According to Persad, laws banning conversion therapy aren't a threat to parental rights, saying that "in fact, these laws protect parents and their families from being taken advantage of by providers of these fraudulent practices."
That same month, a vote on two bills aiming to ban conversion therapy for minors in New Hampshire failed in a House committee vote that broke down along party lines. Committee Republicans who opposed the bans said they were afraid that restrictions might target religious counselors.
According to the Human Rights Campaign, certain "right-wing religious groups" are responsible for promoting the practice of conversion therapy across the country. While bans and regulations to limit the practice exist in California, Connecticut, Illinois, Nevada, New Jersey, New Mexico, New York, Oregon, Rhode Island, Vermont, and the District of Columbia, as well as several cities and counties, it remains legal across much of the U.S.