Stock market reacts to Michael Flynn guilty plea and Senate tax bill vote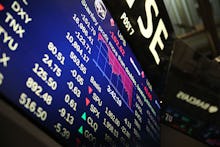 U.S. stock markets tumbled on Friday — before creeping back up — upon news that President Donald Trump's former national security adviser Michael Flynn would plead guilty to providing false statements to the FBI, as part of the ongoing probe into Trump's campaign ties to Russia.
The fact that the GOP tax plan, which is being sold as pro-business, is hurtling toward passage in the Senate seems to have cushioned the blow for the day, with both the Dow Jones Industrial Average and the S&P 500 down only about 0.2% as of market close Friday, according to Google Finance.
For the longer term, the main question — as former ethics counsel to President Barack Obama Norm Eisen pointed out on Twitter — is whether investors are underestimating the odds that the investigation could implicate Trump personally, and the effects that could have on market uncertainty. Though ABC initially reported that Flynn is prepared to testify against Trump personally, it later deleted a tweet with that assertion and issued a "clarification" that suggested the earlier report was misleading.
Here is a screenshot of the earlier tweet that was deleted.
Meanwhile, a report by NBC suggests Jared Kushner could be a person of interest in the investigation by Robert Mueller's team.
As the first news broke, stocks started to fall.
At one point, the Dow Jones Industrial Average — a group stocks in the 30 of the largest U.S. companies that's often used as a bellwether for the market as a whole — had fallen by 350 points.
It is generally hard to pinpoint a single reason when the stock market rises or falls, but one analyst told Bloomberg that thanks to the Flynn news, investors "kind of have the rug jerked out of the Trump trade," a stock market bet that the administration would pursue more business friendly policies.
But as Politico's Ben White noted, the stock market usually falls for a spell on bad news for Trump before rebounding. That's in part because Vice President Mike Pence is expected to pursue broadly similar policies as Trump in the event that he ever becomes president himself.
Interestingly enough, the dip came just a day after the market hit a new 24,000 point high on hopes that the Senate was close to passing a bill to overhaul the tax code. Back in October, Goldman Sachs warned that without tax reform in the picture, stocks were likely "overvalued."
That's another way of saying that investors had already driven up stock prices in anticipation of tax reform that hasn't happened yet — and a correction or fall could occur if the bill fails to pass.
Want to learn more about the stock market? Here's the Payoff's guide to investing and a basic explainer on investment concepts.
Sign up for the Payoff — your weekly crash course on how to live your best financial life.
Dec. 1, 2017, 10:00 p.m.: This story has been updated.