While You Weren't Looking: 5 things Trump's Cabinet did this week while everyone focused on taxes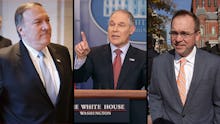 White House slouches toward moving Israeli embassy to Jerusalem
When President Donald Trump took office he put son-in-law Jared Kushner in charge of solving the half-century-old crisis between Israel and Palestine — in addition to the small tasks of solving the opioid crisis, handling diplomacy with China and Mexico, working on criminal justice reform and making the government run like a business.
But one of Kushner's jobs may get a lot more difficult. New reports suggest that senior Trump officials are considering moving the U.S. embassy in Israel from Tel Aviv to Jerusalem, a move that would almost certainly reignite tensions in the region.
Politico reported that some administration officials are mulling a compromise plan to keep the embassy in it's current location while laying out a plan to move the embassy in the future.
Either way, Kushner had probably better get moving. Though he may have other things on his mind.
Pentagon administration kills plan to end use of cluster bombs
Nine years ago, former President George W. Bush committed the United States to altering its use of deadly cluster bombs — deadly munitions with large scatter blasts that often harm civilians — by the year 2019. The Bush administration said these could be used only if they fail to detonate 1% or less of the time.
But this week, the Trump administration decided it may not want to give them up so fast.
Over 100 nations have signed onto an international treaty prohibiting the use of cluster munitions. The U.S. still has yet to sign that treaty, and this latest move suggests that the Trump administration has no plan to do so any time soon.
Trump administration wins lawsuit to put Mulvaney in charge of agency he once voted to kill
Last week, Trump decided to install Office of Management and Budget Director Mick Mulvaney as head of the Consumer Financial Protection Bureau, a move that was met with immediate resistance by the bureau's staff.
While in Congress, Mulvaney voted to kill the agency, leading some to question his commitment to its mission.
CFPB Deputy Director Leandra English sued the Trump administration on the grounds that as deputy director, she should have been placed in charge of the agency after outgoing director Richard Cordray resigned.
But on Tuesday, a federal judge ruled that the Trump administration had the right to install Mulvaney as director until the Senate confirms an official replacement for Cordray.
The EPA may launch a "red team" dedicated to questioning climate change research
Environmental Protection Agency Administrator Scott Pruitt may be on the verge of unveiling a new program dedicated to questioning the scientific consensus on climate change.
A report in E&E News stated that Pruitt may soon formally announce his EPA's "red team" exercise, in which so-called experts question what the vast majority of scientists know to be true — that man-made climate change is indeed real.
Besides being a monumental waste of time, the exercise would only serve to further lay the groundwork for continuing to roll back Obama-era EPA regulations that have been key to protecting the environment in recent years.
The Trump administration is mulling a proposal for a private spy network to be run out of a town known for its neo-Nazis
The Trump administration is mulling a proposal for a private spy organization that would operate out of the U.S. to run covert actions, gather intelligence and conduct propaganda missions, according to Buzzfeed News.
And as if that prospect weren't terrifying enough, Buzzfeed reported that one of the potential plans involves hiring a company based in Whitefish, Montana, home to some of America's most famous neo-Nazis.
Another plan would involve private company's being involved in the "rendition" of terror suspects overseas to the United States.
While the CIA refused to comment on the report, one White House official told Buzzfeed that the idea was "absurd on its face" and "not going anywhere."
However, the report stated that the companies have already met with top national security officials to discuss the plans.