In Maine, Susan Collins' "yes" vote on tax plan brings devastation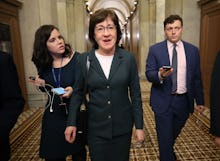 Sen. John McCain (R-Ariz.) famously delivered a thumbs-down early on a July morning to kill legislation to repeal and replace the Affordable Care Act. But it was Sen. Susan Collins (R-Maine) whose opposition had long made it difficult to kill the health care law known as Obamacare.
Collins was given credit, even by her opponents, for meeting with constituents to hear their concerns about repealing the ACA. She consistently said she was worried about the number of Americans who would lose health insurance coverage.
She was cheered after voting against the health care repeal effort in July, telling CNN, "I've never had that happen in the 20 years I was privileged to serve in the Senate. It was very encouraging and affirming."
In August, she defended her "no" vote on ACA repeal. "I see myself as someone who has an obligation to represent the people of Maine," Collins said. Along with Sen. Lisa Murkowski (R-Alaska), Collins stressed the importance of listening to and serving constituents.
That track record on health care, Mainers told Mic, made her Friday vote in support of the GOP tax plan feel like a betrayal. And the assurances Collins said she won to justify her vote on the tax plan are not guaranteed.
"Until now, she has done the right thing under constant and intense pressure from her constituents," said Will Ikard, director of the Maine Small Business Coalition. "Mainers have consistently and overwhelmingly expressed that we want all of our representatives to expand, not cut, health care coverage."
The final tax bill, passed by the Senate 51-49 late Friday night, was 479 pages and written only a few hours before the final vote. It includes sweeping changes to health care policy.
It repeals the ACA's requirement that all Americans have health insurance, a move Collins said "would almost certainly lead to further increases in the cost of health insurance premiums." The Congressional Budget Office says 13 million fewer Americans would have health insurance with a repeal of the individual mandate.
On Friday, Collins said Sen. Mitch McConnell (R-Ky.), the Senate majority leader, promised he will advance two bills before the end of 2017 that will prevent health insurance premiums from rising. Health policy experts do not share Collins' view that those bills — to stabilize Obamacare's individual market and spend $10 billion on covering insurance costs for people with pre-existing conditions — will prevent premium increases.
Furthermore, without congressional action, the tax bill would slash billions of dollars from Medicare. "This will not happen," Republican leaders assured Collins on Friday.
Residents in Collins' home state have demonstrated notable support for the ACA. In November, Maine became the first state to vote to expand Medicaid via a ballot initiative. Maine's residents are leading the nation in the growth of people with health insurance through Obamacare open enrollment.
A recent poll said a majority of Maine residents opposed the Senate tax plan, while fewer than a quarter supported it.
Nico Jenkins helps run Indivisible Peninsula, a chapter of the national grassroots direct action group based near Collins' hometown of Bangor, Maine. Jenkins said Maine activists have focused for months on putting pressure on Collins — something they'll continue with renewed energy after her tax vote.
"The general mood among activists in Maine right now is exhaustion," Jenkins said. "[Collins] has played footsie for so long that we are just really tired."
It's also not clear House Republicans will support the legislation Collins said must be passed as a condition of her support.
Now that Senate Republicans have passed their tax plan, one of two things may happen: House Republicans could pass the Senate bill, or they could head to a conference committee to hammer out compromise legislation. Collins said Thursday that she'd only support the tax legislation — with the ACA individual mandate repeal — if the bills aimed at stabilizing Obamacare had already passed.
If the House simply passes the Senate bill, Collins will not get that chance.
Regardless of whether the bills Collins hopes to pass make it through Congress, Mike Tipping — communications director for the Maine People's Alliance — said Mainers will have a very different reaction than they did after her votes on the Republicans' health care bills.
"Maine is a rural state, a small business state and the oldest state in the country and Mainers are exactly the people who are targeted by the health care cuts and tax increases in this bill," Tipping said. "We definitely won't see clapping at the airport."