Congressman: Kushner's security clearance should be revoked over Flynn Russia contacts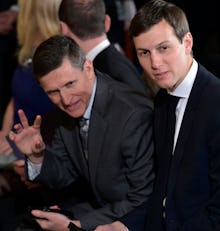 Rep. Ted Lieu (D-Calif.) once again called for Jared Kushner's security clearance to be revoked after it was reported Friday that he had directed Michael Flynn to lobby Russia against a United Nations Security Council resolution concerning Israel.
"I believe Kushner should have his security clearance revoked," Lieu said in a statement to Mic Friday evening. "I used to repeatedly ask why he even had a security clearance, but now I think we should be asking: 'When will he be indicted?'"
Kushner — President Donald Trump's son-in-law and senior adviser — has been scrutinized over numerous failures to disclose foreign contacts on his security forms, including his attendance at an infamous 2016 meeting at Trump Tower with Donald Trump Jr. and Kremlin-connected attorney Natalia Veselnitskaya.
He has apparently still not been granted permanent clearance, continuing to use his interim clearance now approaching a year into Trump's term.
Lieu, an outspoken critic of the Trump administration, wrote a letter to White House counsel Don McGahn in October, urging him to take away Kushner's top security clearance over his "brazen disregard for ethics."
Kushner ID'd as the "very senior" official in Flynn docs
Documents released by special counsel Robert Mueller's office on Friday indicated that Flynn — who pled guilty to lying to FBI investigators over his Russia contacts — was first told to reach out to the Kremlin in late 2016 by a "very senior" member of the Trump transition team.
The official wanted Flynn, a top campaign figure who would go on to serve briefly as the president's national security adviser, to find out where Russia and other foreign governments stood on a UN resolution condemning Israeli settlements and to urge them to "delay the vote or defeat the resolution."
The top transition official was not named in the special counsel's documents, but CNN reported Friday that the figure was Kushner.
That adds yet another layer of significance to Flynn's guilty plea and admissions that Trump transition officials were aware of the contacts with then-Russian ambassador Sergey Kislyak, as it suggests members of Trump's inner circle were essentially conducting its own foreign policy while the Obama administration was still in power.
Flynn acknowledged Friday that he is now cooperating with Mueller's investigation into possible collusion between the Trump campaign and the Kremlin.
His indictment Friday and subsequent guilty plea came after Kushner met with the special counsel's prosecutors earlier in November, where he was reportedly asked about Flynn.
After Flynn called Kislyak at Kushner's behest, the Russian ambassador told the retired general that Russia would vote no on the UN's Israel resolution.