Trump "very happy" after Flynn plea: "There's been absolutely no collusion."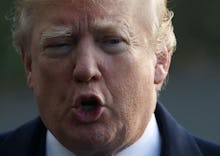 President Donald Trump on Saturday continued to deny that there had been any collusion between his campaign and the Kremlin in his first comments on Robert Mueller's probe since Michael Flynn — his former national security adviser — pled guilty to lying to the FBI over his Russia contacts.
Trump spoke briefly to reporters as he left the White House Saturday morning — hours after Republicans passed their tax plan along party lines overnight — and was asked if he was concerned about what Flynn would tell the special counsel.
"No, I'm not," Trump said. "And what has been shown is, no collusion. There's been absolutely no collusion, so we're very happy."
Later in the morning, Trump tweeted about Flynn, writing that it was a "shame" that Flynn lied about his actions during the transition because they were legal and there was "nothing to hide!"
Flynn on Friday pled guilty to one count of lying to the FBI over December 2016 contacts with then-Russian ambassador Sergey Kislyak and acknowledged that he is cooperating with Mueller's investigation.
Flynn, who was once floated as a possible running mate for Trump, also admitted top transition officials helped coordinate his Kislyak contacts and were briefed on their conversations.
According to documents released by Mueller, Flynn lobbied Russia to kill a United Nations Security Council resolution condemning Israeli settlements at the behest of a "very senior" transition official that sources told CNN was Jared Kushner — Trump's son-in-law and senior adviser.
Flynn also urged Kislyak to not retaliate against sanctions the Obama administration had placed on Russia over its election meddling in a phone call he discussed with another top transition official, who has been identified in news reports as KT MacFarland — the former deputy national security adviser who is currently awaiting confirmation for the United States ambassador to Singapore.
Friday's developments brought Mueller's Russia probe not just into the White House, but into Trump's own inner circle and family.
But the administration downplayed the significance of the news on Flynn, with lawyer Ty Cobb saying in a statement Friday that "nothing about the guilty plea or the charge implicates anyone other than Mr. Flynn."
Trump was much more content Saturday to talk to reporters about taxes after Senate Republicans delivered him a rare legislative victory early Saturday morning, passing the sweeping tax plan they'd written hours earlier in a partyline vote.
"It was a fantastic evening last night," Trump said. "We passed the largest tax cuts in the history of our country and many other things along with it."
After being asked about Flynn, Trump attempted to pivot back to his tax win, saying, "Frankly, last night was one of the big nights."
Trump had been largely silent Friday as the Russia probe dominated the news cycle.
But on Saturday morning, he patted Republican senators on the back in a tweet about taxes, spoke briefly to reporters and released a somewhat bizarre video celebrating Civil Rights hero Rosa Parks — at the end of a week in which he was widely criticized for sharing anti-Muslim videos from a British hate group and mocking Sen. Elizabeth Warren (D-Mass.) as "Pocahontas" during a ceremony honoring Native Americans.
Later in the morning, at a fundraising event in New York, the president also played one of his greatest hits, boasting once again about the size of his electoral victory in the 2016 election.
"By the way, wasn't it 306 to 232?" Trump told a crowd, interrupting a previous thought. "That's a big difference!"
December 2, 2017, 1:16 p.m. Eastern: This story has been updated.