Here's a timeline of Michael Flynn's contacts with Russia and his lies to the FBI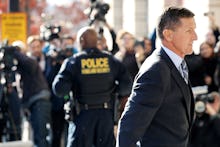 Former national security adviser Michael Flynn on Friday pled guilty to a charge of lying to the FBI and admitted that top Trump transition officials directed his contacts with then-Russian ambassador Sergey Kislyak.
In doing so, he became the latest casualty of special counsel Robert Mueller's investigation into the Kremlin's election interference that has already brought down former Trump campaign chairman Paul Manafort, his associate Rick Gates and former foreign policy adviser George Papadopoulos.
He also became the first current or former White House official to get caught in the web of Mueller's probe.
The White House claims that "nothing about about the guilty plea or the charge implicates anyone other than Mr. Flynn."
But the revelations outlined by prosecutors on Friday — along with a closer look at the timeline of events surrounding Flynn's contacts — raise significant concerns about Trump and his associates' contacts with Russia during the transition, as well as questions about whether the president obstructed justice during the FBI probe.
Here's a timeline of key events in the Flynn saga, from his contacts with Russia to his lies to the FBI to his decision to his plea deal with Mueller:
Nov. 18, 2016
Trump announces he has appointed Flynn to be his national security adviser.
The retired general had been a close ally of Trump during the campaign and had been floated as a possible running mate.
Dec. 1, 2016
Jared Kushner, Trump's son-in-law and senior adviser, and Flynn meet with Kislyak at Trump Tower in New York City. Kushner reportedly proposes setting up a back channel communication line between the Trump transition team and the Kremlin. He does not mention the meeting, or a later meeting set up by Kislyak with Russian spy school graduate Sergey Gorkov, the head of state-owned Russian bank Vnesheconombank, on his security clearance form.
Dec. 21, 2016
Egypt proposes a United Nations Security Council resolution condemning Israeli settlement building in Palestine. Israeli Prime Minister Benjamin Netanyahu condemns the measure and calls on the United States to veto it.
Dec. 22, 2016
A "very senior" member of the Trump transition team — who appears to be Kushner — instructs Flynn to urge Russia and other foreign governments to kill the measure or delay the vote, contrary to the Obama administration's position that while it supports Israel, it does not support settlements or the "incitement of violence."
Flynn contacts Kislyak, informs him that the incoming Trump administration opposes the resolution and presses him for Russia to "vote against or delay the resolution."
Trump releases a statement calling for the resolution to be "vetoed," stating that it "puts Israel in a very poor negotiating position and is extremely unfair to all Israelis."
Dec. 23, 2016
Flynn and Kislyak speak again. The Russian ambassador tells the retired general that Russia will vote against the UN resolution if it comes up for a vote.
The resolution passes, with the U.S. abstaining from the vote.
Trump slams the move, tweeting — ominously — that "things will be different" at the UN after his inauguration.
He continues to speak out against the resolution for several days, repeating his view that the measure was "unfair" to Israel and complaining about the UN.
Dec. 28, 2016
Then-President Barack Obama signs an executive order sanctioning Russia over its interference in the 2016 presidential election.
Trump, speaking from his Mar-a-Lago resort in Palm Beach, Florida, tells reporters that he does not believe the U.S. should punish the Kremlin for its meddling.
"I think we ought to get on with our lives," he says.
Kislyak reaches out to Flynn, but documents released by the special counsel's office do not indicate what was discussed during that contact.
Dec. 29, 2016
Flynn phones a high-ranking official with Trump's transition team in Florida to discuss an upcoming call with Kislyak. The transition official has since been identified in news reports as KT MacFarland — the former deputy national security adviser who is currently Trump's nominee for ambassador to Singapore.
The two discuss the sanctions, "including the potential impact of those sanctions on the incoming administration's foreign policy goals."
Flynn calls Kislyak and urges him to "not escalate the situation."
He tells the transition official about the call.
Dec. 30, 2016
Russian President Vladimir Putin announces he will not retaliate against the U.S. over the sanctions, saying in a statement that he will work to restore relations between Washington and Moscow after Trump comes into office.
"Further steps toward the restoration of Russian-American relations will be built on the basis of the policy, which will be carried out by the administration of President D. Trump," Putin said.
Trump praises Putin's decision, tweeting that he "always knew he was very smart!"
Dec. 31, 2016
Kislyak calls Flynn and tells him that the Kremlin's decision not to retaliate against the U.S. came in response to his request.
Flynn briefs "senior members" of Trump's transition team at Mar-a-Lago on his conversations with Kislyak.
Jan. 12, 2017
The Washington Post reports that Flynn had contacted Kislyak "several times" on Dec. 29 — the day Obama announced his sanctions against Russia.
Jan. 15, 2017
Vice President Mike Pence is asked about Flynn's Russia contacts during an appearance on Face the Nation. He tells host John Dickerson that Flynn assured him that "they did not discuss anything having to do with the United States' decision to expel diplomats or impose censure against Russia."
"I can confirm those elements were not a part of that discussion," Pence stated, adding that he did not believe there were more conversations between the retired general and the Russian ambassador.
Pence had led Trump's transition team.
Jan. 22, 2017
Two days after Trump's inauguration, Flynn is sworn in as national security adviser.
That same day, the Wall Street Journal reports that his contact with Kislyak on Dec. 29 was being scrutinized by U.S. counterintelligence officials.
Jan. 24, 2017
Flynn meets with FBI agents for a voluntary interview as part of the investigation into Russia's interference in the 2016 election.
He "willfully and knowingly" makes false statements about his contacts with Russia, denying that he lobbied Russia to kill the UN resolution and to not retaliate against the U.S. sanctions.
Jan. 26, 2017
Sally Yates, the acting attorney general of the U.S., travels to Washington, D.C., for a private meeting with White House counsel Don McGahn.
She warns him that Flynn had misrepresented his calls with Kislyak and that she had "serious concerns" that he was compromised by Russia.
Jan. 27, 2017
Trump — a week into his presidency — meets then-FBI Director James Comey, who was overseeing the Russia investigation, and reportedly asks him for his "loyalty."
Comey declines to pledge his loyalty to Trump, instead promising his "honesty."
Papadopoulos, who tried to broker meetings between the Trump campaign and Kremlin officials, meets with the FBI and makes false statements about his contacts with Russia.
Jan. 30, 2017
Trump suddenly fires Yates, explaining that she "betrayed the Department of Justice by refusing to enforce a legal order designed to protect the citizens of the United States" — referring to his first travel ban — and that she was an "Obama administration appointee who is weak on borders and very weak on illegal immigration."
Feb. 9, 2017
Reports emerge indicating that Flynn did, in fact, discuss sanctions with Kislyak in December 2016 — contradicting what Pence had said in public statements.
He initially denied to the Post that he had discussed the sanctions with the ambassador, but later backtracked, saying through a spokesperson that "he couldn't be certain that the topic never came up."
Flynn would apologize to Pence for misleading him.
Feb. 13, 2017
White House counselor Kellyanne Conway says in an afternoon MSNBC interview that Trump had "full confidence" in Flynn.
But that evening, Flynn resigns, writing in a letter that he "inadvertently briefed [Pence] and others with incomplete information" about his calls with Kislyak but had "always performed my duties with the utmost integrity and honesty to those I have served."
He served less than a month in Trump's administration.
Feb. 16, 2017
In a fiery press conference announcing Alexander Acosta as his pick for labor secretary, Trump defends Flynn and suggests he was unaware of the nature of his phone calls with Kislyak and calls the Russia story a "fake news, fabricated deal."
"Mike Flynn is a fine person, and I asked for his resignation. He respectfully gave it," Trump says. "He is a man who there was a certain amount of information given to Vice President Pence, who is with us today. And I was not happy with the way that information was given."
"He was doing his job," Trump continues. "The thing is, he didn't tell our vice president properly, and then he said he didn't remember. So either way, it wasn't very satisfactory to me."
He denies that he has any association with Russia and says that "what was wrong" was what he described as "illegal" leaks to the media.
"Russia is fake news," he says, suggesting former Obama administration officials were working to undermine his presidency.
March 31, 2017
Trump tweets that Flynn should "ask for immunity" in the Russia investigation, which he derides as a "witch hunt."
May 9, 2017
Trump fires Comey, writing in a letter to the canned FBI director that he is "not able to effectively lead the Bureau."
He also claims in the letter that Comey had assured him on three occasions that he was not personally under investigation.
May 16, 2017
The New York Times reports that Comey had written a memo detailing an encounter with Trump in which the president had asked him to kill the investigation into Flynn.
"I hope you can see your way clear to letting this go, to letting Flynn go," Trump allegedly told Comey. "He is a good guy. I hope you can let this go."
Trump may have been in contact with Flynn still at the time.
June 8, 2017
Comey testifies before the Senate Intelligence Committee that Trump had tried to pressure him to end his investigation into Flynn the day after he resigned as national security adviser. He confirms that Flynn was under criminal investigation, but does not say whether he believes what Trump did constituted an obstruction of justice.
Oct. 30, 2017
Mueller indicts Manafort and Gates on 12 counts, including conspiracy against the U.S., and announces that Papadopoulos has pled guilty to a charge of lying to FBI agents about his contacts with Russians.
Nov. 5, 2017
After months of intense scrutiny from the special counsel, it is reported that Mueller has enough evidence of wrongdoing to bring charges against Flynn and his son, Michael Flynn Jr.
Nov. 23, 2017
The Times reports that Flynn's legal team has stopped communicating with that of Trump in what is widely interpreted as a sign the embattled former national security adviser has begun cooperating with Mueller.
Dec. 1, 2017
The special counsel's office announces it has charged Flynn with a single count of lying to FBI agents in January over his contacts with Kislyak the previous December.
Flynn arrives at a federal court in Washington and is met with a crowd holding signs and mocking him with chants of, "Lock him up!" — a reference to the chant he led at the Republican National Convention in July 2016 about Hillary Clinton.
He pleads guilty, admits that top Trump transition officials were aware of and involved with his contacts with Russia and confirms in a statement that he is cooperating with Mueller.
Dec. 2, 2017
Trump makes his first public statement about Flynn since the guilty plea, telling reporters as he left the White House Saturday morning that there was "absolutely no collusion."
"We're very happy," Trump says.
Hours later, he tweets that he "had to fire General Flynn because he lied to the Vice President and the FBI."
The tweet implies that Trump knew Flynn was not being truthful when he denied to Pence that he did not discuss sanctions with Kislyak and is met with suggestions that he had inadvertently admitted to obstruction of justice charges.
"Did you know Flynn had lied to the FBI when counsel to the President Don McGahn snubbed Yates as she tried to warn the White House Flynn had been compromised?" Walter Shaub, former director of the Office of Government Ethics, tweeted. "Did you know Flynn had lied to the FBI when you fired Yates days after her whistleblowing?"