This week in Trump-Russia news: Well, that escalated quickly, didn't it?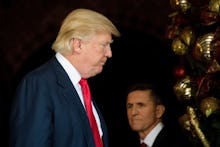 Down goes Michael Flynn.
The former national security adviser completed his fall from grace Friday when he pled guilty to a charge of lying to FBI agents over his improper — and possibly illegal — contacts with then-Russian ambassador Sergey Kislyak in December 2016.
It was a remarkable development not just in the investigation into possible collusion between the Trump campaign and the Kremlin, but in United States history.
"This is the biggest political moment in American history," Heather Cox Richardson, a professor of American history at Boston College, told Mic in a phone interview Saturday. "It dwarfs Watergate."
Here's what you need to know about this seismic moment — and what's going to happen next.
Mueller brings down Flynn
Special counsel Robert Mueller has been pressuring Flynn for months, heavily scrutinizing both his Russia contacts and the work he and his son did on behalf of foreign governments, including an alleged plot to kidnap a U.S.-based Muslim cleric and deliver him to Turkish authorities.
But Mueller only charged Flynn with a single count of lying to FBI agents — a sign, according to former federal prosecutor Patrick Cotter, that he had flipped the retired general.
"A [false statement charge] is classic for a cooperator," Cotter told Mic. "I would see this development as an extremely strong indicator that Flynn is cooperating with the special prosecutor."
Flynn said as much after pleading guilty Friday, saying in a statement that his decision to play ball reflects "a decision I made in the best interests of my family and of our country."
"I accept full responsibility for my actions," Flynn said.
Top Trump officials implicated in Kislyak calls
The White House immediately attempted to distance itself from the former national security adviser, arguing that "nothing about the guilty plea or the charge implicates anyone other than Mr. Flynn."
But documents released by the special counsel's office Friday afternoon indicated that senior Trump transition officials — which reportedly included Jared Kushner, the president's son-in-law, and KT MacFarland, his former deputy national security adviser — had directed Flynn to contact Kislyak and had been briefed on the calls.
The revelations sharply called into question the official narrative the White House pushed after the calls were revealed earlier this year, forcing Flynn's firing.
The administration — and Trump himself — had characterized Flynn as having acted alone in reaching out to Russia and as having lied to Vice President Mike Pence, who led Trump's transition team, about the nature of the calls.
But, the New York Times reported Saturday, emails suggest that Flynn's conversations with Kislyak were part of the Trump team's strategy to "reassure Russia" over sanctions the Obama administration placed on Moscow over its election meddling.
"The Trump advisers feared that a cycle of retaliation between the United States and Russia would keep the spotlight on Moscow's election meddling, tarnishing Mr. Trump's victory and potentially hobbling his presidency from the start," the Times reported.
Rep. Ted Lieu (D-Calif.) said in a statement to Mic on Friday that Kushner's reported role in Flynn's Kislyak conversations should result in his security clearance being revoked.
MacFarland's reported role in Flynn's calls to Kislyak have also raised questions about her nomination to be the ambassador to Singapore.
Trump response raises questions about obstruction
Trump — who has repeatedly called the investigations into possible collusion between his campaign and the Kremlin a "witch hunt" — stuck to the script Saturday morning in his first comments to the media on the Flynn developments.
Talking to reporters outside the White House before heading to New York City for a series of fundraising events, the president repeated his refrain that there was "no collusion" and said that he was not worried about what Flynn might be telling Mueller.
But in a tweet about Flynn later, he seemed to suggest that he was aware Flynn had misled Pence and the FBI about his Russia contacts.
Walter Schaub — former director of the office of government ethics — suggested Saturday that may amount to an unintentional admission that he obstructed justice when he fired acting attorney general Sally Yates days after she warned the White House about the national security adviser's Russia contacts.
Trump transition team undermined Obama policy
Trump in his tweet Saturday lamented the fact that Flynn lied about his Russia contacts because he said the retired general's actions had been "lawful" and that "there was nothing to hide."
But it isn't entirely clear that what Flynn did was, in fact, legal.
In lobbying Russia on a United Nations Security Council resolution and its response to the Obama administration's sanctions, Flynn may have violated the Logan Act — an obscure 1799 statute prohibiting private citizens from manipulating foreign affairs without permission of the U.S. government.
According to Mueller's prosecutors, Flynn influenced Russia's responses both to the U.N. resolution condemning Israeli settlements and to the U.S. sanctions in December 2016 — all before the Trump administration came to power in January and while Barack Obama was still president.
Kushner meets with Mueller as investigation intensifies
Flynn's indictment came after Kushner met with Mueller in early November, according to reports this week.
The special counsel's investigators interviewed the president's son-in-law and top adviser about the retired general, as well as his own contacts with Russians.
Kushner has been scrutinized for failing to include a number of contacts with foreign officials off his security clearance forms.
It was revealed recently that he is still using his temporary security clearance nearly a year into his father-in-law's first term because his permanent clearance is still under review.
Trump attempts to stop Congressional probes
Flynn's lies — along with Trump's reported attempts to get former FBI director James Comey to pledge his loyalty and kill his investigation into the retired general — have painted a picture of an administration with something to hide.
But Trump isn't only acting shady when it comes to the FBI investigation.
He has also been secretly attempting for months to shut down the congressional probes into Russia's election interference, the Times reported Thursday.
According to the report, Trump "repeatedly urged" lawmakers on Capitol Hill — including Sen. Richard Burr (R-N.C.) and Sen. Mitch McConnell (R-K.Y.) — to end the investigations.
"It is pressure that should never be brought to bear by an official when the legislative branch is in the process of an investigation," Sen. Dianne Feinstein (D-Calif.) told the paper.
Mueller removes prosecutor over anti-Trump texts
Mueller removed Peter Strzok — one of his top investigators — from the Russia investigation over the summer when he discovered that the FBI agent had apparently exchanged anti-Trump texts with a colleague, according to reports Saturday.
The agent has been assigned the the bureau's human resources department, according to the Times.
In July, Trump told the Times in an explosive interview that he believed Mueller and his prosecutors were biased against him and said some of the agents had supported his 2016 rival, Hillary Clinton.
"Talk about conflicts," Trump said.
As Trump's allies gear up to attack the special counsel's credibility, they have also suggested that he has conflicts of interest that preclude him from carrying out a fair investigation.
Katrina Pierson, a spokesperson for Trump's campaign in 2016, seized on the report Saturday, suggesting that it confirmed the president's claims that Mueller's team is conducting a politically motivated witch hunt.
What happens next in the Trump-Russia story?
It's unclear exactly what's around the corner in the Russia saga.
The White House has continued to insist that the probe is headed toward a "prompt and reasonable conclusion," but there is no indication that Mueller is anywhere close to being finished.
Indeed, the investigation only seems to be intensifying as Trump and others in his ecosystem come under increased scrutiny.
But one thing that is clear is that the probe is extremely serious and that it does not appear to be the "witch hunt" the president has so often tried to make it out to be.
There appears to be some flames behind the smoke that's been billowing out of the administration for months, and — according to Richardson — we are fast approaching a critical point in our history.
"I think American democracy is truly on the line right now," Richardson said. "This is it. The rubber is meeting the road right now."