Trump blasts FBI in Sunday tweets following official's removal from Mueller investigation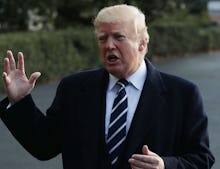 On Sunday morning, President Donald Trump fired off a series of tweets that took aim at the FBI and recently suspended ABC anchor Brian Ross, among other topics.
One day after Trump tweeted that he fired former adviser Michael Flynn for lying to the FBI, Trump followed up on Twitter to say that he "never asked" former FBI Director James Comey to stop investigating Flynn.
"I never asked Comey to stop investigating Flynn. Just more fake news covering another Comey lie!" Trump tweeted Sunday.
The president also took aim at the FBI amid reports that Peter Strzok, a top FBI official who had helped to lead the investigation into Hillary Clinton's emails, had been removed from special prosecutor Robert Mueller's investigation of Trump over the summer. The removal came after it was discovered that he sent anti-Trump and pro-Clinton text messages, revealing a potential political bias.
In addition to retweeting two tweets about Strzok's removal by Paul Sperry, who called on current FBI director Christopher Wray to "clean house," Trump offered his own opinions about Strzok's reassignment, tweeting that the FBI's "reputation is in tatters — worst in history!"
"Tainted (no, very dishonest?) FBI 'agent's role in Clinton probe under review.' Led Clinton Email probe," Trump tweeted Sunday, tagging Fox & Friends in the tweet. "Clinton money going to wife of another FBI agent in charge."
Several tweets later, Trump once again commented on the incident, writing "Report: 'ANTI-TRUMP FBI AGENT LED CLINTON EMAIL PROBE.' Now it all starts to make sense!"
In between Trump's thoughts on the FBI, the president made time on Twitter Sunday to offer his opinions about several other matters, calling the acquittal of a Mexican immigrant charged with the 2015 murder of Kate Steinle in San Francisco a "miscarriage of justice" and retweeting praise of his job performance from White House press secretary Sarah Huckabee Sanders and New Jersey Governor Chris Christie.
The president also continued to complain about ABC News anchor Brian Ross, who was recently suspended after erroneously reporting that Trump had asked Flynn to make contact with Russian officials during the election. The network later clarified that the request had been made after Trump had become the president-elect.
Trump tweeted congratulations to ABC Saturday for Ross's suspension over his "horrendously inaccurate and dishonest report," before following up on Sunday with a claim that investors in the stock market should personally blame Ross for the market's drop Friday amid the Flynn news.
"People who lost money when the stock market went down 350 points based on the false and dishonest reporting of Brian Ross of ABC News (he has been suspended) should consider hiring a lawyer and suing ABC for the damages this bad reporting has caused — many millions of dollars!" Trump tweeted Sunday.