Mic Wakeup: Trump, our nation's children and the "Kremlin connection"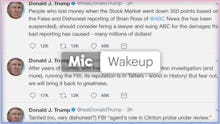 It's the first Monday of the last month of 2017. You probably spent the weekend getting some much-needed respite from the most hectic news week in recent memory. We don't blame you — in fact, we're a little jealous. Here's everything you missed while you were disconnecting. Happy Dec. 4!
Trump's Sunday morning tweetstorm
While you spent you Sunday morning recovering from Saturday night, at church or both (we don't judge), President Donald Trump was tweeting a series of attacks aimed at a wide variety of subjects. Among his targets: the FBI, the botched reporting of ABC's Brian Ross, a homicide case in San Francisco, Robert Mueller and James Comey. Really. If some of them seem a little hard to decipher, we've got you covered.
The Kremlin connection
Paul Erickson is a conservative activist and a member of the National Rifle Association of America. And according to the New York Times, he emailed the Trump campaign in May 2016 to express Russian President Vladimir Putin's desire to meet with the then-presidential candidate, mentioning that "senior Russian leaders" thought Hillary Clinton burned her bridges with the Russian government when she compared Putin to Adolf Hitler. The title of Erickson's alleged email to the Trump campaign? The Kremlin connection.
The Sen. Orrin Hatch-CHIP backlash
During former President Bill Clinton's tenure, Sens. Orrin Hatch (R-Utah) and Ted Kennedy (D-Mass.) teamed up with then-first lady Hillary Clinton to create the Children's Health Insurance Program, an expansion of Medicaid aimed at bringing health insurance to children whose families could not otherwise afford it. But two decades later, Hatch claims that while he still believes in the program he helped create, the federal government just doesn't have the money for CHIP.
Those comments, as well as remarks the senator made about not wanting to spend money on people who did not want to help themselves, drew backlash Sunday from many who wondered how the senator could make such a declaration while passing a tax plan that is widely seen as a boon to the rich at the expense of the poor. Here's everything you need to know about the social media outrage.