Hype List: What to check out this week, including 'The Crown', 'The Newspaperman' and more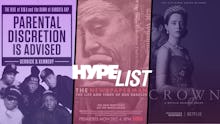 Welcome to the Hype List, a weekly recommendation series in which columnist Tirhakah Love highlights all of the pop culture happenings — movies, music, television, books and more — you need to know about.
TV: The Crown
In our present moment, the British royal family might feel more than a little superfluous, but the monarchy's history remains fascinating. And as well documented as that history is, Netflix's The Crown still feels like a revelation. Claire Foy continues her magnanimous portrayal of Queen Elizabeth II in the series' second season, which sees her crossing paths with John F. and Jackie Kennedy (Michael C. Hall and Jodi Balfour, respectively), meeting with Reverend Billy Graham (Paul Sparks) and confronting former King Edward VIII (Alex Jennings).
The sumptuous atmosphere of the first season carries over, as the mid-20th-century drama details what Variety calls the "fascinating trap" of royalty. Early reviews for the new batch of episodes are strong, so fans can expect a captivating look at femininity, power and what it means to feel free.
The second season of The Crown will be released Friday on Netflix.
Video Game: Hello Neighbor
Indie video game company TinyBuild (known for their involvement in digital side-scrollers like 2011's No Time to Explain and 2016's Speedrunners) has a new title at the ready. Get acquainted with Hello Neighbor, a wonky and absorbing survival-horror adventure. On its face, the game appears to be a highly stylized, Pixar-like romp about a kid living in a new neighborhood.
Soon enough, though, you spot a neighbor engaging in some suspicious activity and decide to investigate. But as you spy on the man across the street more and more (and as the soundtrack gets creepier and creepier), you realize you might be in over your head. All we'll add is this: Imagine if Up was crossed with Rear Window, and you're almost there.
Hello Neighbor will be released Friday on PC and Xbox One.
Movie: The Newspaperman: The Life and Times of Ben Bradlee
Ben Bradlee, the late executive editor of the Washington Post, is probably best known for his role in helping expose the Watergate scandal. This new HBO documentary, directed by John Maggio, intimately chronicles Bradlee's life and professional career, going beyond the tumultuous time of the Nixon administration. Featuring a host of largely unseen photographs and home movies, the doc delves into the editor's early days reporting in the Middle East in the '50s, his friendship with John F. Kennedy and his leadership of the Post in the '80s, when the paper was plagued by controversy after writer Janet Cooke won a Pulitzer Prize for a fabricated article.
This story is lovingly and candidly told (Bradlee provides a good deal of narration himself, via audio recordings), and includes interviews with and commentary from Henry Kissinger, Bob Woodward, Robert Redford and more. In all, it's a thorough tribute to a gigantic figure in American journalism, and it feels especially necessary now, as reporters are facing regular attacks from the president of the United States.
The Newspaperman: The Life and Times of Ben Bradlee will premiere Monday at 8 p.m. ET on HBO.
TV: Happy!
Nihilism and misanthropy are a tough sell right now, but Syfy's new show Happy! manages to have fun with both. Years after his unceremonious exit from Law & Order: SVU — a subject the show seems to poke fun at in its trailer — Christopher Meloni is playing a lawman once again: This time, it's ex-cop-turned-hitman Nick Sax. After a, let's call it, "work-related" near-death experience, Sax meets a blue, winged horse named Happy — voiced by Patton Oswalt — that's the imaginary friend of a girl who's been kidnapped.
The two team up to try to save the girl and bring Sax some redemption. Based on a graphic novel by visionary writer Grant Morrison, Happy! is a brutal, exaggerated and self-aware series that touches on trauma and psychosis while also poking fun at cop shows and the ultra-gritty comic adaptations that are flooding Hollywood.
Happy! premieres Wednesday at 10 p.m. Eastern on Syfy.
Book: Parental Discretion Is Advised: The Rise of N.W.A and the Dawn of Gangsta Rap by Gerrick D. Kennedy
The story of gangsta rap is legend at this point, one that's been passed around for roughly two decades. A group of young men in South Central Los Angeles join forces and form the rap group N.W.A, score big with an iconic debut album, become moguls in their own right and change hip-hop forever. But, in Gerrick D. Kennedy's debut book, the Los Angeles Times writer fleshes out the details, paying particular attention to the early histories of the key figures — meaning Eazy-E, Ice Cube and, of course, Dr. Dre.
Kennedy also seamlessly weaves in stories from the D.O.C. (the genius songwriter behind many classic releases from Ruthless Records) and provides context for the political climate that helped spur N.W.A's popularity — and resulted in some pearl-clutching backlash.
Parental Discretion is Advised: The Rise of N.W.A and the Dawn of Gangsta Rap will be released Tuesday via Atria Books.