Getting married? 5 smart moves to maximize the value of your wedding registry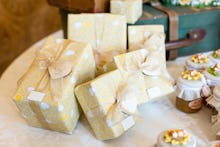 Your wedding is a chance to celebrate your love. It's also a great opportunity to stockpile useful items you'll use in your new life as a married couple — but that's partly why planning a registry can be so intimidating. It feels like a big responsibility! After all, it's one of the rare times you'll get to pick out the specific gifts your loved ones get you: So you'll want to choose wisely.
Whatever you do, don't rush out and choose the store for your registry; focus on the items first. Before you register for anything, take an inventory of your home. What items do you use the most? What should you discard of, or upgrade? And what are you missing that you sorely need?
It's wise to steer clear of purely personal items like jewelry or clothes, since wedding gifts are typically items and experiences you can share with your partner. But it's okay to get aspirational with your list in terms of quality.
Opening a registry is typically free, so if you can't decide between a high-end store like Bloomingdale's or a mid-market option like Target, for example, you could just register with both and choose a few dream gifts through the pricier store, with more affordable items at the other registry. Another smart move is to compare costs on specific items, even as you mix and match registries in similar price tiers — like Amazon versus Target — to see if you can get a better price at one store versus another. Remember to include lots of price points for guests with different budgets.
If you're having trouble deciding what to put on your registry in the first place, some soul searching and conversation might be warranted: Don't be afraid to think outside the box about gifts you will truly use and enjoy. Here are some tips to make sure you get the most out of your wedding presents, and some suggestions about what to avoid as you plan your registry.
1. Stick with durable items that will stand the test of time
One of the most obvious ways to maximize your registry is to choose items that will last a lifetime, or at least a few decades. That might mean skipping gifts like hand towels or cleaning supplies in favor of pots and pans or serving dishes you can use for years to come.
While it's always a good idea to have a wide range of prices represented on your registry to give guests the chance to find something they can afford, it also makes sense to choose high-quality versions of the appliances or items you want, even if they're pricey.
Jennifer Spector, the "newlywed-at-large" and director of brand at online-registry service Zola, suggested in an email on Monday that couples should "think about their future."
Getting a more expensive but well-reviewed blender might mean you'll get years more use out of it than its cheaper equivalent. "This is a very special time in a person's life, where you can build your ultimate wish list and actually have it fulfilled," she added. "If you've been dreaming of a chic new bar cart or a Vitamix for ages, this is the time to ask for it."
Think far into the future. "What will they cherish in five, 10, or even 20 years from now? Do they currently live in a shoebox apartment, but hope to one day have a house with a spacious backyard? Maybe it's worth adding that set of fancy dinnerware or those grilling tools to your registry," Spector said.
2. Be open to the gift that lasts forever: memories
One present that really does last are the memories from an amazing trip or a great experience. Many registries allow couples to set up funds for honeymoon trips — as well as special experiences, like horseback riding, dinners, boat rides or massages for while you're on vacation. Sites like HoneyFund, Wanderable, Sandals and Honeymoon Wishes can also help you.
But honeymoon funds aren't the only experience you can ask your guests to contribute money towards. According to Spector, "Most Zola couples register for a combination of traditional home upgrades, experiences and cash funds."
Whether you want to lean more toward pleasure or practicality is up to you. Spector said that she and her husband registered for private boxing lessons at a nearby gym. At Zola she's seen everything from "funds for new homes and puppies" to "a lifetime supply of avocados."
3. Maybe take a pass on the yogurt maker
Picking out items for a registry can be a dizzying experience — it's easy to get carried away by all the cool gadgets and cutesy accessories that suddenly feel just a click away.
Set those feelings aside (no, you probably don't need that yogurt maker or fruit dehydrator) and focus on the things you'll really use: It will definitely benefit you in the long run.
The one exception is if you're already a hobbyist when it comes to kitchen activities like making fresh pasta or brewing your own beer, for example. Or if you really, really want that wine fridge.
Not sure what you need? Check out Martha Stewart's list of 20 kitchen tools every 20-something should have, including items like a pressure cooker, a chef's knife and a good cookbook from a culinary master like Julia Child. For more ideas, check out this list from Self and this one from Taste of Home.
Finally, if you're going to choose a bunch of offbeat appliances, just make sure you have enough storage space for them, Spector suggests, "even if it's in the in-law's garage." (Of course if you're already thinking about long-term storage, that could be a sign you should just stick to the essentials.)
4. Do a little math to hit the right number
How many items should you have on your registry? According to Karena Bullock Bailey, a wedding planner in New York City, you'll want more gifts on your registry than guests. If you have 100 invited guests, start with at least 125 items on your registry, Bailey told Real Simple.
According to Spector, "There's really no such thing as over-registering." If you under-register, you run the risk of guests going off the rails and getting you things you don't want or need. "I recommend to add one gift for every guest you're inviting to your wedding, plus about 20% to 30%, so everyone has options," Spector said.
If you're having a shower or engagement party, assume guests will use your registry for those, too, and add even more options. Again, just remember to include items at lots of different price points to accommodate friends or family who can't afford expensive presents: Some stores will let you put gift cards on your registry, so guests can always contribute partially toward big-ticket items.
5. Maximize value with deals and completion discounts
Last but not least, don't forget to look for additional ways to save money for both you and your guests. A lot of popular retailers, including Bloomingdale's, Macy's and Bed Bath and Beyond, will give special "completion" discounts on items you registered for but didn't get as a wedding present.
At Bloomingdale's, for example, you can get 10% off any items that remain on your registry after your wedding, plus a $100 "splurge card" when you spend $500 or more on your own registry.
This is yet another reason to over-register for things you want. Even if no one buys them, depending on where you register, you might then be able to get them at a discount.
Above all, Spector said, when creating your wedding registry, "have fun with it" — and enjoy this special window of time when your family and friends want to help you get set up for married life.
Sign up for the Payoff — your weekly crash course on how to live your best financial life.