Republicans are championing a deeply, historically unpopular agenda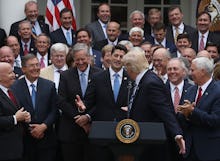 Welcome to Mic's daily read on Donald Trump's America. Want to receive this as a daily email in your inbox? Subscribe here.
Monday's dispatch: A deeply unpopular agenda
Republicans have staked claim to a policy and political agenda that is deeply unpopular. From health care and tax reform, to Roy Moore and immigration, the GOP consistently veers toward positions deeply disliked by most Americans. In December alone, Republicans have even more goals that the majority of Americans oppose.
On health care, Republicans are close to repealing the Affordable Care Act's individual mandate. Though the individual mandate is unpopular, it's key to preserving insurance for Americans with pre-existing conditions, covering men and women equally and lowering premiums through competition. Repealing the individual mandate will likely lead to the ACA's collapse, as 13 million insured Americans will stop buying health coverage over the next decade.
This comes as 2017 enrollment in the ACA is outpacing 2016. Approval of the ACA has dipped below 50% only once since June. In September, only 20% of Americans said they supported GOP efforts to repeal the ACA.
The GOP is getting closer to cutting the corporate tax rate to 20%, while offering minimal benefits to low-income and middle-class earners — some of whose taxes will immediately rise under the new plan. Republicans say their plan will boost wages and jobs for workers, bringing them the indirect benefits of tax cuts for companies.
Polls have shown deep distrust of the GOP's approach. A recent survey found only 30% of Americans support their tax plan, with a large number of those polled still undecided. Tax cut proposals have historically been popular — but many today believe the Republican plan will largely benefit the wealthy and corporations, not their own wallets.
A growing number of congressional Republicans want to reach a deal to protect Deferred Action for Childhood Arrivals program recipients. But in a year-end funding deal, President Donald Trump has increasingly closed the door on protecting those who immigrated to the U.S. as children. That's angering Democrats — some of whom, like Rep. Michelle Lujan Grisham (D-N.M.) and Sen. Elizabeth Warren (D-Mass.), say they won't back a deal to fund the government without those protections.
When Trump announced in September that DACA would end in March, a large majority of Americans said they opposed deporting the program's recipients, and a majority said DACA recipients should have a path to citizenship.
Finally, Republicans are increasingly throwing their support behind embattled Alabama GOP Senate candidate Roy Moore, who is accused of sexual assault and pursuing relationships with teenage girls as an adult. Trump tweeted his full support for Moore on Monday, and Sen. Mitch McConnell (R-Ky.) backed away from suggesting Moore should be expelled from the Senate if he wins, saying he would "let the people of Alabama make the call."
In Alabama, two polls last week from CBS News/YouGov and the Washington Post show Moore and Democratic opponent Doug Jones leading by 3.2% and 6%, respectively. But a clear majority of voters nationwide believe Moore should drop out of the race. Fewer than one-fifth of voters say nine allegations of sexual misconduct against Moore are not credible. Alabama's special election will take place on Dec. 12.
And what do Republicans hope to do next? Slash hugely popular Social Security and Medicare programs — in an election year — while potentially cutting funding to children and poor Americans by not renewing the Children's Health Insurance Program and pursuing "welfare reform."
All of these positions mean Republicans will be remembered for advancing a 2017 agenda that was opposed by a majority of Americans, with support from less than a third of the country. The effect? The latest national polls, from Reuters/Ipsos and Economist/YouGov of congressional approval pegged support at 19% and 10%, respectively. Trump's approval rating has been under 40% since mid-May.
With the government on the verge of shutting down, those numbers could drop further.
Today's question: Will pursuing such an unpopular agenda damage Republicans ahead of the 2018 elections?
Please email us your thoughts at trumpsamerica@mic.com.
This week in Trump's America:
Tax reform: With the passage of the Senate bill after 2 a.m. on Saturday morning, the House will vote on Monday to head to conference committee. Republicans must hammer out the differences between their two bills. The GOP is saying it can reconcile the differences. Republicans say they are confident they will have a tax bill for Trump to sign by Christmas.
Government shutdown: Congress must pass a bill to keep the government running by Friday. The House is likely to pass a bill for a two-week funding extension early this week. Republicans hope that will give them time to hammer out a deal that can get 218 votes in the House and 60 votes in the Senate. Democrats are refusing to help, for now, as they demand protections for DACA recipients as part of a funding deal.
Guns: The House is set to vote on a law that will allow concealed guns to be carried across state lines and force states to honor concealed carry permits issued in other states.
Trump tweets: Tweets from the president's account on Saturday suggest he had obstructed justice in the investigation into Michael Flynn by asking former FBI Director James Comey to "let Flynn go" when he knew Flynn had lied to the FBI.
On Sunday, Trump's lawyer told the Washington Post the president knew in late January that Flynn, then the national security adviser, had likely given inaccurate information to FBI agents about his conversation with the Russian ambassador. He also said he wrote Saturday's tweet.
Flynn pled guilty Friday to lying to the FBI. Here's a timeline of his contacts with Russia and what he told federal authorities.
Trump vs. Romney: Trump's scheduled Monday trip to Utah will also feature Utah Sen. Orrin Hatch, a Republican who has long supported the president. That's reportedly a direct slight toward Mitt Romney, who has been eyeing running for Utah's Senate seat if Hatch retires. Trump wants Hatch to run for re-election.
CHIP: Hatch is being criticized for saying "we don't have money" to renew the Children's Health Insurance Program, a low-cost health insurance plan for children from low-income families, after Senate Republicans passed a tax cut for the wealthy and large corporations. "I have a rough time wanting to spend billions and billions and trillions of dollars to help people who won't help themselves," Hatch said.
CHIP, which Congress has yet to renew since it expired Oct. 1, must be renewed by the end of 2017, or millions of children on the plan will begin to lose coverage.
Sexual harassment: Two Democratic members of Congress, Reps. John Conyers (D-Mich.) and Ruben Kihuen (D-Nev.), are facing calls to resign after being accused of sexual assault from former aides. Rep. Blake Farenthold (R-Texas) is also under fire. Sen. Al Franken (D-Minn.) faces an ethics probe into multiple allegations of harassment and assault.
Under the radar:
Stories you may miss elsewhere.
National monuments: For months, the Trump administration has been working to shrink the federal government's control of land in the western United States. That effort will burst into public view on Monday when Trump dramatically shrinks millions of acres of national monuments in Utah.
Today's MicBite:
Trump was once a champion of a radically progressive, ahead-of-its-time tax plan. Yes, seriously. Click or tap the video below to watch.