Trump appears to have admitted to obstruction of justice — now what?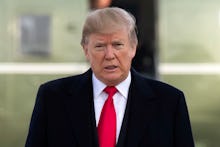 President Donald Trump got himself into possible legal trouble over the weekend when an explosive tweet from his personal account indicated that he knew his former national security adviser Mike Flynn had lied to the FBI before he fired James Comey.
Before firing Comey, Trump had privately asked him if he could see to "letting Flynn go" when he knew Flynn had lied to the feds, the former FBI director testified under oath.
"I had to fire General Flynn because he lied to the Vice President and the FBI," Trump tweeted on Saturday. "He has pled guilty to those lies. It is a shame because his actions during the transition were lawful. There was nothing to hide!"
This essentially amounts to an admission of obstruction of justice, some legal experts say, given that Trump knew Flynn lied about his communications with Russians and fired Comey in order to end the FBI's investigation that could have uncovered Flynn's crime.
Obstruction of justice is, of course, a serious crime. It's one of the charges that led former President Richard Nixon to resign, after it was revealed that Nixon tried to cover up the Watergate break in.
Obstruction of justice is also the charge that led to former President Bill Clinton's 1999 impeachment. Clinton's affair with 21-year-old Monica Lewinski was not illegal, but Republicans impeached Clinton because he lied under oath to a federal grand jury about the affair.
Trump and his defenders have tried to downplay the possibility that the president obstructed justice.
One of Trump's lawyers, John Dowd, took the blame on Sunday for writing the Trump tweet that appears to be an admission of obstruction of justice. However, it's unclear how that really helps Trump, unless the lawyer was for some reason lying about what Trump knew about Flynn.
And on Monday, Trump's lawyers tried to make the case that a president cannot, in fact, obstruct justice.
A "president cannot obstruct justice because he is the chief law enforcement officer under [the Constitution's Article II] and has every right to express his view of any case," Dowd told Axios.
This is a bizarre and dubious claim, given that two prior U.S. presidents did face those very same charges.
Ultimately, special counsel Robert Mueller will have the final say about whether there is enough evidence to conclude Trump did obstruct justice through his actions in the infancy of his presidency.
Mueller has already been investigating Trump for obstruction charges. And Flynn's bombshell guilty plea last week, and his cooperation in the investigation, could be helping Mueller determine what exactly happened.