Facebook's Messenger app for kids is out — here's all the data it's collecting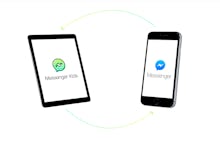 Facebook is a place where anyone can view ads from Russia or find the next big screaming party — if you're age 13 or above, that is. The Children's Online Privacy and Protection Act ensures that sites that collect info on their users like Facebook can't be used on those under 13 years of age. So Facebook's created a version of its most popular app that avoids doing just that. Enter Messenger Kids.
How is Messenger Kids different from Messenger?
Messenger Kids is the basic version of the Facebook Messenger app. The app lets you message other Facebook users, but only with the approval of someone who has an actual Facebook account (presumably the parent).
After downloading the app, kids can choose their own name, indicate their parent, and start trading messages with other Facebook users.
But none of this happens without the parent's approval. Children using Messenger Kids send their parents the name of who they'd like to chat with. The parent then finds the account of who they believe their kid is referring to and approves the connection. Once the child receives approval, they can share text, photos and more just like on regular Facebook Messenger.
The app is only available for iOS devices at the moment. Understandably, the app doesn't allow its users to type certain crude responses, like the middle finger emoji.
The Messenger Kids site specifically states the app is an "ad-free experience" and is also devoid of in-app purchases.
While there aren't ads in the app, how is Facebook using data it learns about within the walls of Messenger Kids? How else is it different from the regular, ol' Messenger app?
How private is Messenger Kids?
There are no ads within Messenger Kids, but the app still collects data on its users. Looking at the app's privacy policy, here's an excerpt from the first section:
Content and Communications Shared on Messenger Kids. We collect the content and information your child sends and receives on Messenger Kids, such as the content of messages (including text, audio and video), stickers, gifs, photos or videos they send, camera effects they use, and their score in a game they play with a friend.
Along with this, Facebook collects the information you use to register and how they use the app.
Which isn't unprecedented. Facebook has always collected the content of messages you trade, who you're connecting with, and info on your smartphone like your location, phone number and even the device's settings. (No big deal.)
The Messenger Kids privacy policy says this app collects all the same — except location. In our testing, while the kids app requests access to your phone's camera and microphone, it does not request GPS data.
We collect information about the people your child connects with on Messenger Kids and how they interact with them, such as the people they communicate with the most.
Further down, Facebook is upfront about keeping tabs on who your child talks to, how often they talk with them and the preferred ways in which they interact with friends.
And then there's the section titled, "How is this information shared?" where we see the Messenger Kids app does in fact send data obtained from the app with non-Facebook companies. Here's one portion,
We may transfer information we collect to third party service providers that support our business, such as companies that provide technical infrastructure or support (like a content delivery network), provide customer service, or analyze how Messenger Kids is being used to help us improve the service.
So while there are no ads inside the app, unnamed third-party companies do have some sort of access to data obtained from within the app. Facebook specifies that their partners have to adhere to laws on data privacy and protection laws.
Messenger Kids tracks you less than the regular app, but only slightly
There may be not be ads within the Messenger Kids app, but Facebook still collects data on how your children use the service, who they talk to and logs behavior of how the app is used. Additionally, unnamed partners of Facebook can be shared on these findings.
The clear down side to all this for Facebook is that young kids will probably still do what they do now: join Snapchat or Instagram to trade messages with whomever they want. On those platforms, they don't need their parents' permission.
As far as Facebook-branded apps go, though, the immediate plus side Messenger Kids offers is a way to use Facebook without giving up any location data via your phone's GPS. Messenger Kids gets the slightly better privacy feature as a trade-off for needing approval before starting a conversation. Though paranoid adults can download the app and attach it to their actual account if they want to take advantage of location tracking-free Facebook usage. If you can live without the middle finger emoji, that is.