Chronicling Meghan Markle's long-standing love affair with fashion, from designer to fashion icon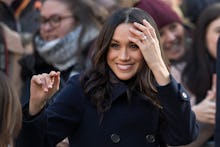 Before Meghan Markle became Meghan Markle, soon-to-be-princess, she was a fashion girl. As an actor and model, she naturally embedded herself into the fashion industry through appearances on red carpets and New York Fashion Week.
Starting in 2006, Markle would pop up at charity events, swag suites and low-key red carpets wearing outfits that were low-key to match — little black dresses and casual ensembles that were nothing to write home about.
But after her show Suits debuted in 2011, Markle's style, and red carpet appearances, ramped all the way up. Now she was attending events for GQ and TV networks looking sultry, with sophisticated, figure-hugging dresses in fabrics that have a sheen and often sequins.
In 2013, she moved closer to the fashion industry itself by finally attending New York Fashion Week shows. Her first one was an Hervé Léger by Max Azria show in September.
She attended Tory Burch, Tracy Reese and Marchesa shows that week too.
Markle's status as a "fashion girl" was strengthened not only by NYFW appearances (which she'd continue through 2016) but by the launch of her own lifestyle blog — The Tig — that focused on fashion, beauty, food and travel.
The site is now defunct, with Markle releasing a statement in early 2017 reading "After close to three beautiful years on this adventure with you, it's time to say goodbye to The Tig. What began as a passion project (my little engine that could) evolved into an amazing community of inspiration, support, fun and frivolity." Parts of the site remain, such as its Instagram.
The Instagram account still shows a bevy inspirational quotes, delicious pictures of food and enviable snapshots of fashionable people (including Markle, sometimes) living their fabulous lives. It was like Gwyneth Paltrow's Goop, but without the exclusivity and with a bit more focus on charity.
The Tig's fashion vertical also had a keen eye for the designers its readers should watch. According to Aurora James, the founder and designer of Brother Vellies, Markle's blog was the first outlet to run a story on her brand, which now has fans like Kanye West. So Markle clearly knew her stuff.
Around the time that The Tig launched, with Markle actively trying to situate herself as a fashion blogger, Canadian retailer Reitmans roped her into becoming an ambassador for the brand, with Markle even starring in a commercial.
Then Reitmans asked her to design a capsule collection of her own.
At the time, according to a all-things-Markle blog called Meghan's Mirror, she discussed the first Reitmans collection on the Tig by writing: "I conceived the dress capsule as four distinct pieces that you could have in your closet, or throw in your suitcase and be confident and covered for any event this spring. I toiled over design and print, I shared my thoughts on everything (come on guys, you know I'm opinionated), and I ended up with a limited collection of pieces that reflect facets of my personal style that I think (hope, pray, hold-my-breath-and-wait-for-the-comments-on-Insta), that you'll love."
Looking at this first collection now, it is indeed four easy dresses that a consumer could lust over: A black dress with off-the-shoulder detail, a long white dress with a tropical print, a burgundy halter dress with ruffles and a white dress with an asymmetrical skirt.
Markle would play designer for Reitmans a second — and final — time in late 2016, designing a capsule collection that was far more professional and modern, with pieces like a leather pencil skirt and a relaxed button-down.
It would be Markle's final bit of work with the retailer, with her ending her partnership in April, which is around the time she signed off on the Tig too.
All of this is to say that Markle's recent incarnation as a full-blown fashion icon comes after years of studying and appreciating style herself.
Since 2013, roughly, she has been looking at fashion and seeing how she can use it to her own benefit, as we all do. But since the announcement that she and Prince Harry are engaged, the tables have flipped a bit. Now it's fashion that's obsessed with her. Now it's fashion that's trying to see how it can use her. Now, every few days or so, we get a press release from a fashion company boasting that Markle loves to wear their shoes, or carry their bags.
Having already grown from a woman interested in fashion and designing to a woman that has all of fashion's attention, we expect Markle's status as a style icon can only really increase from here.