Calabasas is now a fashion runway after Kim Kardashian West debuts Yeezy Season 6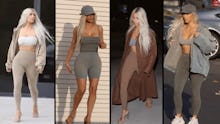 New York Fashion Week is done, finished, over — and it's all thanks to Kim Kardashian West. We make this grand statement after West debuted Yeezy Season 6 all on her own, by posting pictures on Twitter of herself wearing each of the looks while running around her beloved Calabasas, California.
But it's not like West's pictures show her posing at home, looking all glam and fabulous. The lookbook-like pictures, which West started posting to Twitter on Monday morning, show West doing things as mundane as going to McDonalds, getting a Kit Kat, heading to FedEx, lingering around her storage unit and charging into business meetings.
Other charming situations included West getting a smoothie and pumping gas.
For a woman who's opened up her entire life to cameras and the paparazzi, this decision to make her every move into a fashion show is brilliant. She knows she's one of the most overexposed celebrities on Earth, and considering that level of attention, why not kill two birds with one stone? Why not use the attention she'd normally get to debut her husband's fashion collection, which never showed officially during Fashion Month?
The streets of Calabasas have long been West's runway, and now she's using it to literally debut fashion. "I love Calabasas for being my runway," West tweeted out after posting the images.
And if you think this was at all an accident, West gave a shoutout to Carine Roitfeld, the editor-in-chief of CR Fashion Book, for styling each of the looks for this unconventional runway show.
An iconic move if we've ever seen one.
New York Fashion Week has struggled with relevancy recently, with a number of hyped designers ditching it in favor of showing in Paris and even Los Angeles.
With West's endorsement of Calabasas as the go-to place for a fashion show, maybe she'll change the game once again.