With a government shutdown looming, Democrats are now poised to gain the upper hand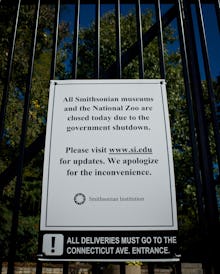 The federal government is set to run out of money at midnight Friday and faces a shutdown if Congress cannot pass a new funding bill in time.
House Speaker Paul Ryan (R-Wis.) and Senate Majority Leader Mitch McConnell (R-Ky.) are seeking to pass a two-week stop-gap funding bill that grants Congress more time to work out a longer-term funding deal without letting the government's lights shut off — which can lead to some painful consequences, like delayed payments for government employees, the shuttering of national parks and billions of dollars lost for the country's economy.
However, the House Freedom Caucus, a group of conservative and libertarian Republicans, could threaten to block that measure, according to a Politico report.
If the HFC does blocks the measure, Republicans would likely need Democratic support to pass the bill.
This shift would give Democrats leverage to win major policy goals, including funding for children's health insurance and legal protections for undocumented immigrants who were brought to the country as minors.
President Donald Trump announced in September his plans to end the Deferred Action for Childhood Arrivals program that protects those young immigrants, saying it's up to Congress to pass legislation to protect them from deportation.
Congress, however, has yet to pass a bill on the issue — and Democrats have threatened to withhold votes from government funding bills if protections are not put in place.
Ryan, McConnell and Trump are set to meet with Democratic leaders Chuck Schumer and Nancy Pelosi on Thursday to try and work out a deal. Schumer and Pelosi had previously canceled a meeting with Trump after the president said he didn't think a deal was possible, telling his Twitter followers that "Chuck and Nancy" wanted "illegal immigrants flooding into our country unchecked." Trump also called the pair "weak on crime" and claimed they wanted to "substantially raise taxes."
Schumer and Pelosi issued a joint statement Monday, saying they were glad the White House requested a second meeting. "We hope the president will go into this meeting with an open mind rather than deciding that an agreement can't be reached beforehand," they said.
Schumer and Pelosi outlined a laundry list of policy goals they want to see added to the government funding bill, including money for the "opioid crisis, pension plans and rural infrastructure" as well as DACA-like protections for young immigrants.
"As negotiations with our Republican counterparts continue, we are hopeful the president will be open to an agreement to address the urgent needs of the American people and keep government open," Schumer and Pelosi said.
The prospect of a shutdown is nothing new to Americans in recent years: The government was shuttered for 16 days in 2013 following a fight over funding for the Affordable Care Act.
However, that shutdown occurred with a divided government — Republicans controlled the House and Democrats controlled the Senate and White House. This time, Republicans have unified control of Washington. The last time the government shut down with one political party having unified control was under former President Jimmy Carter in 1979.
Failing to keep the government funded despite running Washington could be a political headache for Republicans in 2018.
McConnell, meanwhile, has been dismissive about the prospect.
"Look, there's not going to be a government shutdown," McConnell said on ABC News' This Week. "It's just not going to happen."