Congressional Republicans are trying to sneak a "gift" to the NRA into a gun safety bill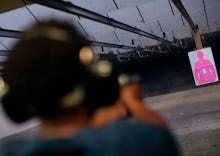 Congress may vote to significantly roll back restrictions on carrying concealed weapons, as a new bill approved on party lines by the House Judiciary Committee would allow those with concealed carry permits from any state to use them anywhere in the country — even in states where concealed carry of firearms is strictly regulated.
Republicans are attempting to force passage of the Concealed Carry Reciprocity Act by tying it to a bipartisan bill to improve the federal background check system, following the deadly Sutherland Springs, Texas, church shooting that left 26 dead in November.
The bill, which is expected to pass in the House of Representatives, represents a major victory for the National Rifle Association, which supports the measure.
Mark Kelly — the husband of former Rep. Gabby Giffords (D-Ariz.), who was critically injured by a gunman at an event with her constituents in 2011 — told reporters on Monday that he considers the bill "an early Christmas gift to the gun lobby."
"Citizens and voters want bills to prevent the next tragedy," Kelly said on the press call organized by Everytown for Gun Safety and Moms Demand Action for Gun Sense in America, "not ones that help the next tragedy happen."
Concealed carry is the legal mechanism by which residents of a state can carry a concealed weapon. Though every state allows some citizens to carry a concealed firearm, many restrict that right to only those who can prove extraordinary circumstances for why they must walk around with hidden firearms.
The bill would establish a system of "concealed carry reciprocity" between states, allowing concealed carry permit holders to use them in any state that allows concealed carry. Everytown for Gun Safety noted on its website that 19 states do not require applicants for concealed carry permits to undergo any gun safety training, and 12 states allow individuals to obtain a concealed carry permit without a background check.
During the debate over the bill, House Judiciary Committee Chairman Bob Goodlatte (R-Va.) said the bill would allow Americans with violent misdemeanor charges to carry firearms. He referred to those individuals as "law-abiding citizens."
Lucy McBath — faith and outreach leader for Everytown for Gun Safety and Moms Demand Action, and the mother of unarmed black teenager Jordan Davis, who was fatally shot in a car at a gas station in Jacksonville, Florida, by a white man after playing loud music in 2012 — spoke out against the bill in the conference call with reporters.
"I don't want anyone to ever experience the pain that I have," she said. "I lived through what happens when the wrong person is carrying a gun. The risk to our children and our community is far too high if we weaken these standards."
Though the measure is expected to pass the House, it may have a harder time in the Senate, where it will need Democratic support to reach 60 votes. Some red-state Democratic senators up for election in 2018 may feel pressure to side with the gun lobby. But opposition is growing.
Sen. Mark Warner (D-Va.), a former supporter of concealed carry reciprocity, has come out against the bill, and Republican Sen. John Cornyn (Texas), a co-sponsor of both the original background check bill and the concealed carry bill, reportedly said it would be a "mistake" to combine the two.