Netflix will continue 'House of Cards' without Kevin Spacey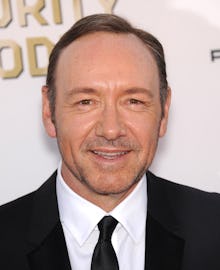 Netflix content chief Ted Sarandos announced on Monday that House of Cards, the streaming service's flagship original series, will continue making its final season without star Kevin Spacey, who was ousted in November amid accusations of sexual misconduct.
"We are excited to bring closure to fans," Sarandos said of the decision, according to the Hollywood Reporter.
Spacey, who played despotic former president Frank Underwood, was fired from the series following a bombshell BuzzFeed report in which actor Anthony Rapp accused the Oscar winner of making sexual advances toward him when he was only 14 years old. Netflix suspended production of the show after the allegations surfaced.
Production on House of Cards will resume in early 2018 and will focus on the character of President Claire Underwood, Frank Underwood's Machiavellian wife who spent the most recent season outmaneuvering her husband and stealing the presidency from under his nose. Her character is played by Golden Globe-winning actress Robin Wright.
Spacey is one of many powerful and influential men in America to come under fire recently for a history of alleged sexual misconduct. The wave of revelations, of course, began with the New York Times' October exposé on Hollywood mogul Harvey Weinstein's alleged predatory behavior.
Since Rapp came forward, Spacey has seen a rash of other allegations brought against him. He was also removed from his supporting role in Ridley Scott's new film All the Money in the World and replaced with storied actor Christopher Plummer.