Britney grossly missed the point of Madonna's AIDS post — that's pretty on brand for her, these days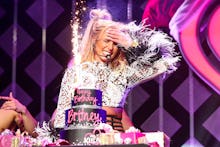 In observance of World AIDS Day in early December, Madonna posted three Instagram posts, one of which featured the principal priestess of pop singing a cover of Britney Spears' "Toxic." "Silence = Death! Song for World AIDS Day!" she wrote in the caption, tagging Spears and wishing her a happy birthday.
Inspired by the shout-out, Spears responded with an Instagram video of her own. In the 35-second post, Spears can be seen singing Elvis' "Can't Help Falling in Love" a cappella as a hand-held camera circles.
"She's right… silence = death!" Spears wrote. "These words really stuck with me, because they are so true. I've always wanted to do a performance like this… singing in a pretty little black dress, with a simple 360, one take shot! I figured since it was my birthday, why not go for it?!"
The video has been viewed over 4.2 million times in two days. It's on brand for Spears' Instagram both in content and form: There's the short skirt, casual domestic opulence, and that distinct cinéma vérité-style her followers have come to expect. There's also a disarming, gnawing awkwardness that haunts you long after you've scrolled on.
What's more important is the massive misunderstanding going on here. The "silence" Madonna invokes is silence specifically around HIV and AIDS' outsized effect on LGBTQ communities. "Silence = Death!" is the iconic motto championed by ACT UP, or AIDS Coalition to Unleash Power, a preeminent direct-action AIDS advocacy group, itself taken from an even more iconic 1987 poster. Spears was 8 years old when Keith Haring, a friend of Madonna's, died from HIV in 1990.
World AIDS Day carried added significance in the U.S. this year, as the Centers for Disease Control and Prevention finally acknowledged that undetectable levels of the HIV virus could not be transmitted between people sexually — viewed by some as a huge step in combatting the systemic and cultural stigma against people living with the virus. In short, Britney missed the mark — and crucially.
And yet, it's not coming out of left field.
Spears' Instagram consistently exhibits a lack of the brand-building savvy that's become a baseline requirement for celebrities these days. In fact, it's this lack of finesse that's made her so compelling in recent years.
In one post, she paints a canvas on a veranda in running shoes. The camera pans around to reveal her art — a jarringly simple, youthful expression of flowers. A brief cut, and she's inexplicably changed clothes. The video clip has been edited so that classical music plays over the whole thing. "Sometimes you just gotta play!!!!!!" the caption reads. (The painting in question recently sold for $10,000 dollars).
And then there are the fashion shows.
So many fashion shows. There's also kitschy art, mom memes and regrammed food posts, and this is just scratching the surface. None of it is bad, or offensive — taken as a whole it's just bizarre.
As she's done throughout her career, Spears continues to physically enact America's most outsized fantasies and greatest fears. She's come to so perfectly embody the bizarreness of American pop culture — glamour wrapped tightly around the awkward human reality, on blast — that it's literally hard to look at sometimes.
As queer people, we can be disappointed by Britney's "Silence = Death" slip-up, sure — but as human beings who are anxious about embarrassing ourselves on social media, we can relate. Keep it coming, Britney.