Supreme Court allows Trump's travel ban to go into effect, as legal challenges continue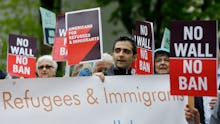 The Supreme Court on Monday allowed President Donald Trump to fully enforce his divisive travel ban as legal challenges to the ban proceed, marking a major win for the administration.
In the third version of the Trump administration's travel ban, citizens from Chad, Iran, Libya, North Korea, Somalia, Syria, Venezuela and Yemen — six of which are majority-Muslim — face restrictions entering the United States.
The decision supersedes lower court rulings, which limited enforcement of Trump's ban, allowing those from the banned-country list to enter the U.S. if they had a "close familial relationship" with someone currently in the country.
Justices Ruth Bader Ginsburg and Sonia Sotomayor indicated in the ruling that they would have left the lower court rulings in place.
Two lower courts are slated to hear arguments on the travel ban this week. The Supreme Court decision on Monday asked those courts to make their decisions quickly.
Opponents of the ban say it discriminates on the basis of religion, and filed a letter with the Supreme Court on Monday to make the justices aware of recent anti-Muslim retweets Trump made.