A trans woman said she was banned from Tinder because of transphobic men — again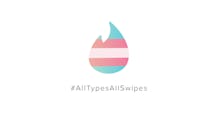 In November 2016, Tinder announced it'd be offering its users a variety of gender options for their profiles, like "trans man," "trans woman" and "genderqueer." Tinder billed this as an inclusivity feature meant to make people of all genders feel welcome on the app — but at least one transgender woman feels that being open about her gender identity simply painted a target on her back.
And now she thinks it's the reason Tinder just doled out a permanent ban.
Meet Tahlia, a 23-year-old trans woman from Austin, Texas, who asked her last name be withheld due to privacy concerns. In a series of tweets, Tahlia alleged she was banned from Tinder because straight, cisgender men were reporting her account due to her trans identity.
In a phone call with Mic, Tahlia said she suspects she accumulated several reports against her account when she traveled to East Texas for a few days over Thanksgiving.
"Obviously the men in a very tiny, East Texas town are going to be very different than the men in Austin," Tahlia said Monday. "So, what I think happened is I was on Tinder there for a few days and I racked up a whole bunch of guys reporting me."
When Tahlia tried to contact customer service to gain more information about why she was banned, Tinder did not provide an explanation, saying only that she had violated community standards "in some way." Tahlia denied having violated Tinder's rules. It's important to note Tahlia has no way of verifying the exact reason for her ban — though, to her, the reason is clear.
"The problem is that straight men often get very uptight about their sexuality and what it means for them to be attracted to a trans woman, and they get angry and they report us or they send us rude messages," Tahlia said.
In a statement emailed to Mic, a Tinder spokesperson said they "cannot share details regarding specific users or investigations, [but] all users are held to the same standards and are removed from Tinder if they violate our community guidelines/terms of use." Tinder declined to comment further when Mic asked how Tinder handles cases in which someone may have been wrongfully banned.
In a follow-up email Tahlia received from Tinder, which Tahlia forwarded to Mic, she was told she could not appeal her ban.
Tahlia then reached out directly to Tinder co-founder Jonathan Badeen on Twitter for help, where the two exchanged a few direct messages.
"Hi [Tahlia,] have you (and your friends) used the [trans] gender option?" Badeen asked her in a Twitter private message. "Trust me, it helps. You don't have to display it on your profile but it helps us with prioritization to make sure it stops happening to you."
Tahlia responded, saying she had used the appropriate gender options. Badeen then asked for her email, but said he was having trouble finding her Tinder account — possibly because it was deactivated. In a Twitter private message to Mic, Badeen confirmed that the two had been in contact, and that he told Tinder's customer support team about Tahlia's experience.
One part of this whole experience has been particularly troubling for Tahlia: That the way Tinder's banning system seems to work encourages her and other trans women to hide their gender from their public profiles, which only plays into the harmful misconception that trans women lie about who they really are in an effort to seduce men.
"They're really only incentivizing us to not put on my bio that I'm trans, and then everybody blames trans women, like, 'Oh, you should have told him,' but when we do tell them — it's just really frustrating," Tahlia said. "It's really hypocritical, and I know it's all a business move and that they don't actually care about us. That's so obvious to me."
Unfortunately, this is not the first time trans people have reported encountering this issue with Tinder. In June 2015, Business Insider reported that trans people had been banned from the dating app because of reports from other users.
Before Tinder introduced its new gender options, Tahlia said she was banned for a few months starting at the end of 2015. When Tahlia contacted Tinder customer support, she said a customer service representative acknowledged Tinder's gender options at the time were imperfect, which could lead to users being unfairly reported. Shortly thereafter, Tahlia's account was unbanned. Until now, she said she's been able to use Tinder without issue.
Tuesday, Dec. 5 2017, 5:06 p.m. Eastern: This story has been updated.