Runsy's art is a salute to her Mexican roots, the South Side of Chicago and a mother's touch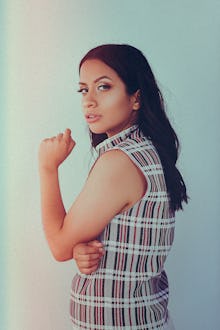 Runsy, a Chicago-based artist, adds her own personal flair to illustrations of family portraits, by adding elements of her Mexicana heritage and icons of the Windy City, propped up against blushing, bright and peachy palettes. The artist, who was featured in Red Bull Sound Select's 30 Days in Chicago artist showcase, also merges the personal and political through photography and graphic design in her digital zines, which she published on Wednesday.
While the 24-year-old expands her artistic vision, she's also pushing against stereotypes that limit what it means to be a Latina creative. "I feel like people will be like, 'Oh my God. You're like Frida [Kahlo]," said Runsy, referencing the late and widely celebrated Mexican artist.
"Frida is her own person. I respect her, but you're only making that connection because I'm a Latina artist. And that's not cool. We need to do better." Runsy, born Esperanza Rosas, may share Mexican descent with the legendary artist, but there is more to be explored from her work and other artists with Latinx backgrounds, she said.
For instance, Runsy's latest collection is a digital booklet "Que Las Diosas Bendigan a Nuestro Hogar" meaning "God bless our home." The project focuses on the role women played in being the nurturers, healers and wisdom-holders for her siblings and cousins while growing up on Chicago's South Side. The project is inspired by a fellow Chicagoan, rapper Noname and her 2016 Telefone mixtape.
Runsy said Noname's centering of her mother, aunt and grandmother on tracks such as "Reality Check" and "Diddy Bob" compelled her to highlight the women in her own family.
"I told my brother, and I said, 'Think about it'," Runsy said, "'When we're in the South Side think about who really gets you out the shits.' And I'm like 'Mom. We could never talk about stuff with my dad. My dad's a cool guy but, when I do something, I go to my mom. And I need something, I go to my aunts'."
Runsy continued, "And then I started picking out family photos and I always had this theme that I wanted to pursue. And it was, 'Who is holding babies in photos from when I was little?' And those are always women. You have my aunt holding me. Who do I feel more comfortable talking to now? These really are the people who get you out the shits."
The artist's 24-page document is filled with photographs, letters and illustrations she compiled in 2017. It also references the lives of her three male cousins Rambo, Adrian and Chul. For example, Runsy features a heartfelt letter from Chul's older sister on one page, detailing how his family still mourns the 18-year-old who was killed by a drive-by shooter in February. Runsy said lyrics from Noname's "Yesterday" also helped her cope with his loss:
When the sun is going down
"That chorus kind of reminds me of him and that his presence in the room [is] still here," she said as she teared up. "I sent the lyrics while I was working on this project to his sister and she said, 'It really reminds me of Chu.'"
Runsy says in sharing these personal stories through her artwork, she hopes to inspire others to see the humanity behind the many news reports that often depicts Chicago's South Side as an unsettled and violent place.
"I want people to understand the bigger perspective of why my piece should exist [and] the system we're in," she said. "It really humanizes them. I feel like Latinos and people of color, they're going to read it and they're probably going to say, 'Damn, I feel this. This is my family.' It should make people more united to their family as well."