British 'Vogue' prioritizes diversity with new Taylor Swift cover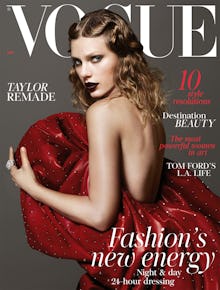 April's announcement that Edward Enninful would succeed Alexandra Shulman as the new editor in chief of British Vogue seemed to be met with near-unanimous approval from those within the industry.
"There are times fashion can be so behind the times, and I feel like this just skyrocketed a lot of real positivity. I almost can't articulate how excited I am for him and that this has happened," famed casting director James Scully told Mic at time. "This is going to shake things up," the New York Times' Vanessa Friedman tweeted. We even predicted a bright future ourselves, writing "with Enninful at the helm, the glossy has a much better chance of becoming an example to other magazines for how to do diversity right."
After a long string of controversies, small and large, including being called out by supermodel Naomi Campbell for the mag's lack of diversity, the timing felt right for Enninful to succeed in getting what many saw as a derailed train back on its tracks. Compounded by a controversial exit interview that Schulman gave to the Guardian, which Racked described as "a case study on white privilege," Enninful's reinvigorating presence felt urgent.
Known for spearheading Vogue Italia's "Black Issue" as well as his work as fashion and style director of W, Enninful would become the mag's first black editor in chief in its over 100 years of publication. He also brought with him a track record of speaking out on industry-wide injustices.
"If you put one model in a show or in an ad campaign, that doesn't solve the problem," he said in a 2016 Time interview with Naomi Campbell. "We need teachers in universities, we need internships, we need people of different ethnic backgrounds in all parts of the industry. That really is the solution, you have to change it from the inside." 
And change it seemed to do when Enninful's first cover debuted in November featuring model, activist and his own goddaughter Adwoa Aboah — only the third black model to ever appear alone on a British Vogue cover.
A diverse roster of talent "dedicated to Great Britain and the creatives who represent it at home and abroad" was strewn across the cover: novelist and essayist Zadie Smith, London's first Muslim mayor, Sadiq Khan and Jourdan Dunn — the second black model to ever appear on a British Vogue cover — among them.
"Growing up, there were just a few of us — including me and Naomi Campbell and Pat McGrath," Enninful said in his in-book interview with Aboah. "We had each other, but often we felt quite isolated, knowing that we all had something to say. So for me to watch you and your contemporaries today, it's incredible."
Cut to Monday's release of Enninful's sophomore effort: a cover featuring Taylor Swift, a singer who recently made headlines for threatening to sue a blog for calling her a white supremacist. The only name appearing on this cover besides Taylor's is Tom Ford, a cisgender white male designer.
"Might as well have been an American Vogue cover," was the response from one anonymous PR director I reached out to for comment, making reference to what the Independent described as American Vogue's "complicated relationship with diversity." "He's gotta sell magazines," another director, also requesting anonymity, remarked.
A magazine explicitly prioritizing diversity covering their most recent issue with a star that BuzzFeed once described as "[adhering] to the markers of white feminine fragility," whom Huffington Post recently described as a "doe-eyed perpetually victimized white woman," only shows how tone deaf a choice Swift was. How about Leyna Bloom? How about Precious Lee? How about Jourdana Phillips?
Though the cover was perplexingly met with minimal backlash online, it calls into question — rather staggeringly — how different #NewVogue (as it dubbed itself in November on social media) is going to be from the predecessor it shares a name with. Moreover, it casts doubt on the magazine's intent to truly move away from its problematic past — perhaps the saddest reality of all.
In the end, it seems British Vogue came up short in Twitter's spirited effort to "name a bitch badder than Taylor Swift."