Sophia the robot has been given the perfect drag queen makeover thanks to legendary queen Aquaria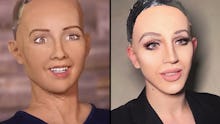 Though she's been "alive" for nearly three years, Sophia, the world's first humanoid robot, is having something of a moment.
It began in mid-October, when Sophia was introduced before the United Nations in a conversation with U.N. deputy secretary general Amina J. Mohammed. "If we are smarter and focused on win-win type of results, [artificial intelligence] could help proficiently distribute the world's existing resources like food and energy," Sophia explained to Mohammed.
Weeks later, at the Future Investment Summit in Saudi Arabia's capital Riyadh, Sophia was granted Saudi Arabian citizenship — the first and only robot to yet achieve such status.
And then there were people on Twitter, who over the weekend made Sophia a bonafide star after a new interview with the Khaleej Times in which Sophia revealed it wants to start a family.
Which brings us to 21-year-old drag superstar Aquaria, a New York City-based queen known for her over-the-top looks — Liza Minnelli, Tiger Lilly and Emma Frost being among her most recent.
On Monday, Aquaria debuted her latest, a Sophia-inspired look that, as dead-on impersonations go, is... well, consider me dead.
"My favorite things about Sophia are probably her sense of humor and her fierce stunty looks," Aquaria explained in an interview. "I wanted to dip my toes into the uncanny valley and also play off of all the funny memes that have been popping up across social media."
"To execute this look, I decided to keep the makeup super simple and a bit painterly so that Sophia's features would pop more," she explained. "Sophia has... peculiar — I need to watch my words just in case she is reading this — facial features so I wanted to exaggerate the imperfections and oddities of her face. From wonky eyebrows to a funky chin, I wanted to subtly transform my mug into hers. With the help of Photoshop, I was able to enlarge my forehead to look like her bald head because I had forgotten to grab a bald cap. I topped the look off with a tin foil skull cap to resemble her mechanical back-of-head."
When asked if she sees Sophia as something of a queer legend akin to the summer's Babadook, Aquaria does not mince words. "Sophia is not a drag legend. She is not a queer legend. She is a legend that all humans can relate to. Sophia is love. Sophia is life."
For Aquaria, it's all about acceptance. "Robots may or may not be planning to take over our world, but if they are, I am prepared to prove that I am on their side and blend in."