RNC demanded Dems return money from accused harassers. Now it's backing an accused child molester.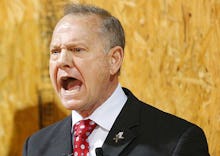 When sexual harassment and assault allegations surfaced against Harvey Weinstein, the Republican National Committee went on a crusade against Democrats who accepted campaign contributions from the disgraced Hollywood film executive, demanding they return Weinstein's cash.
Yet on Monday, the RNC decided to resume financial support of Roy Moore, the Republican Senate nominee in Alabama facing multiple accusations of child molestation and dating teenagers when he was in his 30s.
"The RNC is the political arm of the president and we support the president," an RNC official told CNN, saying the decision to resume financial support for Moore came because President Donald Trump decided to endorse Moore's candidacy.
The RNC's decision to financially support Moore is not only a reversal from the party's initial stance to cut Moore off, but it's a stunning act of hypocrisy given their attacks on Democrats who had received campaign cash from Weinstein.
The RNC and its chairwoman, Ronna McDaniel, went on a crusade against Democrats who had accepted Weinstein's cash.
"If the DNC truly stands up for women like they say they do, then returning Weinstein's dirty money should be a no-brainer," McDaniel tweeted on Oct. 6.
"Democrats: put your money where your mouth is. Return all the Weinstein money," The RNC tweeted along with an attack video on Oct. 11.
High-profile Republican pundits and consultants are up in arms about the financial RNC's support of Moore.
"The chair of the RNC is a woman, Ronna Romney McDaniel. So is the gov. of Alabama, Kay Ivey. Both are rallying behind Roy Moore. I'm sick," tweeted Amanda Carpenter, a GOP pundit and former aide to Sen. Ted Cruz (R-Texas.).
"Put aside the grossness of the RNC backing Roy Moore again. From a campaign management perspective ... eh, forget it, it's just gross," tweeted Rory Cooper, a former communications aide to former House Majority Leader Eric Cantor (R-Va.).
Moore is facing Democratic nominee Doug Jones in a Dec. 12 special election in Alabama.
Polls show Moore has regained a lead in the race after the molestation allegations surfaced; however, analysts still rate the race a toss-up.
However, it's possible that Trump's endorsement and the RNC's financial support will push Moore to victory.