After Trump shrinks protected lands, Patagonia, REI and The North Face fight back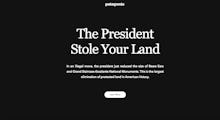 On Monday, during a visit to Utah, President Donald Trump announced that he would dramatically shrink the size of two national monuments in Utah — Bears Ears and Grand Staircase-Escalante. This marks the largest reversal in federal land protection in U.S. history.
"Some people think that the natural resources of Utah should be controlled by a small handful of very distant bureaucrats located in Washington," Trump said in a speech in Utah's state capitol. "And guess what? They're wrong."
Hours after the announcement, outdoor brands were fighting back. Patagonia, most notably, launched a dramatic homepage that reads: "The president stole your land."
"In an illegal move," Patagonia continued. "the president just reduced the size of Bears Ears and Grand Staircase-Escalante National Monuments. This is the biggest elimination of protected land in American history."
Clicking into the "Learn more" button below this announcement, readers are diverted to an information page that offers details on the national monuments themselves and why Patagonia is fighting back.
"Patagonia has been in the fight to protect public lands for almost 30 years — and we are proud to have played a part in the establishment of several national monuments, including Bears Ears National Monument in Utah and Basin and Range and Gold Butte National Monuments in Nevada," Patagonia wrote. "We are also proud to stand alongside over 350 businesses, conservation groups and Native American tribes that have come together on this issue to protect public lands. Climbers, hikers, hunters and anglers all agree that public lands are a critical part of our national heritage and these lands belong not just to us, but to future generations."
In a statement acquired by AdAge on Monday, Patagonia president and CEO Rose Marcario alluded to legal action. "Americans have overwhelmingly spoken out against the Trump Administration's unprecedented attempt to shut down our national monuments," the statement read. "We've fought to protect these places since we were founded and now we'll continue that fight in the courts."
And in a statement to Mic on Tuesday, a spokesperson for Patagonia wrote: "Native American tribes, environmental organizations and others including Patagonia will file several different lawsuits against the administration to protect the area."
Patagonia's own website goes so far as to illustrate exactly what Trump's reductions look like with a map. Offering a chance for its customers to take action themselves, Patagonia links out to organizations that fight to protect protected lands. It's also encouraging customers to tweet at the president and his administration.
Joining Patagonia in this fight is the outdoor company REI, which had a much subtler statement on protected lands on its own homepage. Scroll down a bit and you'll see a "We [heart] our public lands" feature, with REI writing: "Despite the loss of millions of acres of protected land this week, REI will continue to advocate for the places we all love."
In a blog post detailing its decision to post about Trump's order, REI attempts to pose this issue as one beyond politics:
At REI, we are unwavering in our nonpartisan commitment to public lands — to protecting this nation's spectacular natural places — the mountains, deserts, prairies, waters and forests that tens of millions of Americans from all backgrounds cherish and enjoy annually. The nation's outdoors have benefited from longstanding support on both the left and the right of the political spectrum. Today's decision hurts the people who love these places. Americans enjoy our public lands in every part of the country, irrespective of politics. Not only have hikers, cyclists, climbers and hunters enjoyed national monuments, but economies have been built around them through outfitters, guides and retailers.
It should be noted that Bears Ears, one of the monuments Trump is cutting back, was first protected by former President Barack Obama.
"REI will not retreat from our strong belief that there is common ground in the outdoors," REI concluded. "We will continue to pursue bipartisan support to protect public lands and prevent death by a thousand cuts. REI members can be assured that we will honor our shared passion for our public lands, dedicating time and resources to leaving them healthier for future generations."
The brand then encourages fans to change their profile pictures on social media to the below image:
The North Face, yet another hugely popular outdoor brand, changed its homepage following Trump's announcement as well, and linked out to a Kickstarter campaign they will donate $100,000 to.
"We're donating $100,000 to support the creation of an education center outside Bears Ears National Monument, helping protect these public lands for future generations," the North Face wrote.
As of Tuesday afternoon, the Kickstarter for this center was already successful, raising $124,383 with 26 more days of fundraising for the center to go.
This is far from the first time Trump's actions have forced brands to get political. In light of Trump's announcement that the U.S. would back out of the Paris climate accord, Nike, Under Armour and Adidas all released statements. And after Trump announced his immigration ban, the president of the denim company Levi's released a statement reading: "Any policy that seeks to restrict or limit immigration based on race, nationality or religion is antithetical to what we believe as a company."
Mic has reached out to both Patagonia and REI for comment.
Dec. 5, 2017, 2:50 p.m.: This post has been updated.