John Oliver went in on Dustin Hoffman over harassment allegations during a panel discussion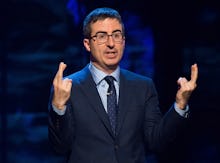 A Monday night panel discussion at New York City's 92nd Street Y got heated Monday night when HBO's John Oliver, who was moderating the panel, questioned guest Dustin Hoffman over recent allegations of sexual harassment made against the actor.
Oliver's persistence in getting answers out of Hoffman made waves, especially considering how few accused abusers of recent weeks have faced direct questions about allegations against them.
The event was a 20th anniversary Tribeca Institute screening of the film Wag the Dog, the Washington Post reported. In addition to Hoffman, the panel included Robert De Niro, Jane Rosenthal and Barry Levinson.
According to the Post, about halfway into the hour-long event, Oliver questioned Hoffman about allegations made against him in November by Anna Graham Hunter, who said that Hoffman sexually harassed her in 1985, on the set of the TV film Death of a Salesman, when Hunter was a 17-year-old intern.
According to a piece Hunter published in the Hollywood Reporter, Hoffman made sexually explicit comments to her and touched her inappropriately. At Monday night's discussion, when Oliver questioned Hoffman about the accusations, Hoffman reportedly responded, "From a few things you've read you've made an incredible assumption about me. ... You've made the case better than anyone else can. I'm guilty."
Hoffman then asserted, several times, according to the Post, that he didn't believe he had transgressed and didn't recall meeting Hunter on set in 1985.
"I still don't know who this woman is," Hoffman reportedly told Oliver. "I never met her, if I met her it was in concert with other people."
Oliver continued to press Hoffman, saying his claims never to have met his accuser were insufficient, telling him, "It is reflective of who you were. If you've given no evidence to show it didn't [happen] then there was a period of time for a while when you were a creeper around women. It feels like a cop-out to say 'It wasn't me.' Do you understand how that feels like a dismissal?"
Also during the panel, Oliver discussed the importance of bringing up the allegations against Hoffman. As the Post reported, such a discussion is "a rarity in the post-Harvey Weinstein era," when powerful men in media and entertainment have been allowed a retreat from the public eye in the wake of allegations against them — often the extent of their acknowledgment has been to release a short public statement.
Oliver told the crowd on Monday that he couldn't leave the allegations against Hoffman unaddressed at the event. "The easy way is not to bring anything up. Unfortunately that leaves me at home later at night hating myself. 'Why the … didn't I say something? No one stands up to powerful men.'"