Fewer refugees, more deportation arrests: 9 figures that show how Trump has changed immigration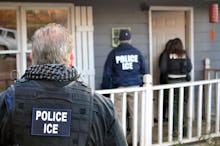 Welcome to Mic's daily read on Donald Trump's America. Want to receive this as a daily email in your inbox? Subscribe here.
Tuesday's dispatch: The Supreme Court is allowing Trump's travel ban — what's happened since it was first enacted?
The Supreme Court on Monday said President Donald Trump's travel ban could go into effect. That came after the lower courts moved to limit enforcement of the ban as appeals worked their way through the court system. Only two justices, Ruth Bader Ginsburg and Sonia Sotomayor, said they would have kept the lower court rulings in place.
Citizens from eight countries now face increased restrictions to enter the United States. The third version of Trump's ban limits entrance from citizens of Chad, Iran, Libya, North Korea, Somalia, Syria, Venezuela and Yemen — six of which are majority-Muslim countries.
Since Trump took office, the administration has tightened access to the United States. In January, when Trump enacted his first travel ban via an executive order, protesters headed to the airport to demonstrate against the new policy. Despite this highly visible moment, Trump's immigration agenda is often much more low profile.
Here are some key figures about how the administration has changed immigration into the U.S.
• Arrests for deportation not occurring at the border have increased 40% under Trump.
• Arrests at the border have dropped by 25% — suggesting fewer people are trying to enter the U.S.
• Overall deportations are down 6%, but they have increased dramatically in the interior of the U.S.
• A greater number of immigrants, likely fearful a green card or visa will not protect them, are applying for citizenship.
• Border patrol agents were assaulted more than 800 times — a substantial jump above the fewer than 600 assaults seen every year since 2012.
• More than 630,000 cases are pending in U.S. immigration courts, a backlog that has tripled since 2009.
• The U.S. has cut the number of refugees it accepts annually to 45,000. For months, there was a ban on refugees entering the country, which was lifted in October.
• The administration is forcing citizens from Nicaragua and Haiti to return to their countries in 2019. Some of the tens of thousands affected by this decision have lived in the U.S. for decades.
• About 800,000 people who were brought to the U.S. as children are waiting to see whether Trump and Congress will protect them from deportation.
In sum: Fewer immigrants are being apprehended at the border, but many more are being arrested in American communities. More people are applying for citizenship to guard against deportation, and hundreds of thousands of people await a decision on their legal status.
Today's question: Do you think any elements of the travel ban are justified?
Please email us your thoughts at trumpsamerica@mic.com.
Tuesday in Trump's America:
Tension in the House: The House Freedom Caucus, a coalition of conservative and libertarian Republicans, nearly scuttled sending the House to conference committee on the divisive tax bill on Monday evening. Freedom Caucus members are concerned about passing a two-week continuing resolution on Friday to keep the government open.
The Freedom Caucus, which has enough votes to kill Republican legislation without Democratic support, does not want protections for DACA recipients to be in a year-end spending bill. But Democrats are increasingly demanding those protections in a year-end package to keep the government funded.
Congressional leaders will meet Thursday with Trump to discuss a funding package — a day before Congress must pass legislation to keep the government open. House Republicans meet Tuesday to (potentially) agree on their strategy.
Roy Moore: The Republican National Committee announced it has reversed course and is now backing embattled Alabama GOP Senate candidate Roy Moore. The special election is Dec. 12. That comes after Trump wholeheartedly threw his weight behind Moore on Monday. Moore has been accused by nine women of sexual misconduct, including when several of them were minors.
John Conyers: The longest-serving member of the House will not run for re-election. Conyers (D-Mich.), a founding member of the Congressional Black Caucus, has been accused of sexual harassment by former staffers. Several Democrats have called for Conyers to resign over the past few weeks.
Guns: The concealed carry legislation House Republicans are trying to pass, which would broadly widen permit holders to carry their guns across state lines, is being attached to a bipartisan gun reform measure.
Mike Pence: The Atlantic reported Mike Pence, then the vice presidential candidate, offered to replace Trump atop the GOP ticket within hours of the Access Hollywood tape leaking at the height of the 2016 presidential campaign.
Tax reform: The New York Times writes Republicans created a coordinated effort last week to discredit a report that found the Senate tax plan would increase the deficit. Several Republicans told Mic last week they didn't believe the projection, including Sens. Susan Collins (R-Maine), James Lankford (R-Okla.) and John Kennedy (R-La.).
Trump in Utah: The president rolled back federal protection of 2 million acres of land in Utah, the largest cut in U.S. history. Utah politicians argued the two national monuments reduced in size were illegally large. But Native Americans argue the monuments included thousands of historical sites.
Under the radar:
Israel: The Trump administration said it will move to recognize Jerusalem as the capital of Israel. But U.S. allies and Muslim countries are warning against changing Jerusalem's status, which has prompted Trump to delay his decision.
Today's MicBite:
Is there enough evidence to impeach Trump? Tom Steyer thinks so. Click or tap the video below to watch.