Obama and LeBron had 4 of Twitter's 9 most re-tweeted tweets of 2017. Guess who didn't have any?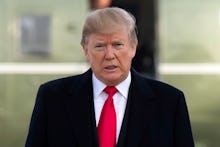 Twitter is the canvas on which President Donald Trump has painted the media as "fake news," the intensifying Russia saga as a "witch hunt" and his enemies as "crooked" and "liddle."
But none of his posts on the platform in 2017 resonated with users as much as ones in which former President Barack Obama and NBA megastar LeBron James totally owned him.
Twitter on Tuesday released its nine most retweeted tweets of 2017.
Included in the list were two January posts by Obama, in which he said it had been an "honor" to serve as president and urged Americans to "believe" in their ability to create change — seemingly referencing the incoming Trump administration without mentioning his successor by name.
His August tweet countering Trump's response to the deadly white nationalist rally in Charlottesville, Virginia, was also among the nine most retweeted tweets of the year.
"No one is born hating another person because of the color of his skin or his background or his religion," Obama tweeted, hours after Trump suggested "many sides" were to blame for the violence that left 32-year-old Heather Heyer dead.
James' epic defense of his NBA rival Steph Curry against Trump also made the top nine.
Trump said in September that Curry wasn't welcome to visit the White House with the NBA champion Golden State Warriors because the NBA superstar had spoken critically of Trump and suggested he wouldn't attend.
"Therefore invitation is withdrawn!" Trump tweeted.
Of course, there were a couple problems with that.
First, Trump had not extended an invitation to the Warriors, because he wasn't sure they would accept.
Second, as James pointed out in a tweet of his own, Curry had already outright said that he would not go.
"U bum," James tweeted. "[Curry] already said he ain't going! So therefore ain't no invite. Going to White House was a great honor until you showed up!
Other tweets that beat out Trump this year included pop star Ariana Grande's emotional response to the devastating bombing at her Manchester, England, concert in May, the Penn State Interfraternity Council's fundraiser for storm-ravaged Houston and some person who angled for a year's worth of free Wendy's chicken nuggets by getting more than 18 million retweets.