Mikayla Holmgren becomes the first woman with Down syndrome to compete in a state Miss USA pageant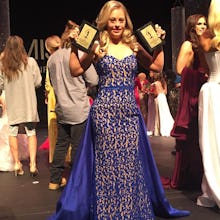 When Mikayla Holmgren took the stage at Miss Minnesota USA in late November, she made history. In the history of state Miss USA pageants, Holmgren was the first participant who has competed with Down syndrome.
Speaking to Mic, Holmgren said of taking part in the pageant: "It's kind of fun and it's like I'm dreaming, I'm dreaming like this pageant is like USA. What did I do?"
Although she didn't win the crown that day, which would have sent her to the 2017 Miss USA pageant, she did come home with two awards: the Spirit of Miss USA Award and the Director's Award.
This wasn't Holmgren's first pageant either. In addition to dancing since she was 16 years old and competing in the Special Olympics as a gymnast, she participated in — and won — the Minnesota Miss Amazing competition, which is a pageant for women with disabilities, in 2015. After asking her mom for permission to try out for the 2017 Miss Minnesota USA pageant, Holmgren charged on.
"I meet a lot of people and they're like, 'Mikayla!'" Holmgren said. "I meet new people and they came out of nowhere, and they're like new friendships. It's a lot, it's a lot."
You can watch Mic's entire video on Holmgren below: