Why Washington's fight over protecting 800,000 immigrants could shut down the government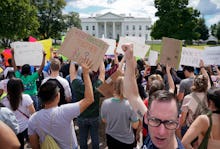 WASHINGTON - Two Washington factions are battling over the fate of roughly 800,000 immigrants in the U.S., and the struggle is inching the government toward a shutdown on Friday.
On one side are Democrats and moderate Republicans, who have increasingly coalesced around the idea of allowing those who were brought to the U.S. as minors to remain in the country permanently. They want that to be law — in the next 26 days. On the other side is a small but vocal minority — which may include President Donald Trump — that does not want protections for Deferred Action for Childhood Arrivals recipients included in a year-end spending package.
On Tuesday, House Republican leaders said they will push for a two-week extension of federal government funding. If that passes Congress by Friday, the government will be funded until Dec. 22.
Republican leaders hope this will give them enough time to negotiate a spending deal that can win GOP support and draw 60 votes in the Senate — which will require support from eight Democratic senators. GOP leaders in the House were scrambling Tuesday to secure 218 votes to pass their funding resolution by Friday. Some members of the House Freedom Caucus, which consists of conservative and libertarian Republicans, want to see funding extended to Dec. 30, with the belief they would have more leverage over Democrats.
For House Republicans, the problem is the HFC. The group of about 30 does not want DACA protections to be in a year-end spending deal, said an HFC source, who was granted anonymity to discuss internal deliberations. The HFC will meet Wednesday at 8 a.m. to discuss their strategy, the source said.
If HFC members band together, they can prevent legislation from passing with only Republican votes. That only leaves the option of House Speaker Paul Ryan (R-Wis.) working with the Democrats.
In May, votes from House Democrats were needed to pass a bill funding the government from September through December. 90 Republicans defected, not wanting to run the government at current spending levels.
But an HFC member said Tuesday that in exchange for conservatives supporting a two-week extension of government funding, House leaders committed to not using Democratic votes to pass continued government funding.
Meanwhile, opposition to passing any government funding bill beyond Dec. 22 continues to grow among Democrats. Immigrant advocate groups have staged protests on Capitol Hill for weeks, and on Tuesday, hundreds of people stormed House offices to demand protections are passed for DACA recipients.
"This is the red line," said a leader in an immigrant advocate group who was granted anonymity to speak about efforts to pressure Democrats.If Democrats do not take a stand over DACA protections by the end of 2017, "they will be blasted" by progressive and immigrants' rights groups, the source added.
Twenty of those immigrants' rights organizations are pushing members of Congress to sign a "dreamer pledge" that includes DACA protections in any spending deal.
Angel Padilla, policy director for progressive group Indivisible, argued that Democrats should push for a showdown over DACA recipients on Friday — if the HFC ends up leaving Republicans without the votes to keep the government open. That way, Padilla said, Democrats could force Republicans to keep DACA protections.
If they wait until later in December, Democrats could be withholding votes from more than funding the government. They'd likely also be preventing legislation to stabilize the Affordable Care Act and fund the Children's Health Insurance Program as part of a larger spending deal, items that could be included in year-end spending legislation.
"I'd be a little bit skeptical of the idea that Democrats will hold something up on the 22nd," Padilla said. "The place where the Democrats have maximum leverage is this Friday."
On Thursday, Democratic and Republican congressional leaders will meet with Trump to hash out a more permanent funding deal for after Dec. 22.
Trump said last week that a deal over DACA recipients with Democrats did not look likely — prompting Rep. Nancy Pelosi (D-Calif.) and Sen. Chuck Schumer (D-N.Y.) to pull out of a meeting with him about government funding. But in the past, the president has called on Congress to protect DACA recipients.
Also working in Democrats' favor: On Tuesday, a group of 34 Republican House members sent Ryan a letter demanding DACA recipients be protected by the end of 2017. The program, ended with a six-month delay by Trump in September, is set to lapse in March.
"We are compelled to act immediately because many DACA recipients are about to lose or have already lost their permits in the wake of the program's rescission," the Republicans wrote.
While the battle may be playing out in the House, passage is far from clear in the Senate. Five Democrats and Sen. Bernie Sanders (I-Vt.) have said publicly that they will not back a year-end spending deal unless it has DACA protections. Senate Republicans only need eight Democrats to pass legislation to avoid a government shutdown.
But Schumer, the Democratic minority leader, warned Tuesday that placating House conservatives could drive away Senate Democrats.
"If they cooperate with Democrats they can accomplish something," Schumer said in a speech on the Senate floor. "To just let the Freedom Caucus dictate [is] a recipe for chaos."