'RHONJ' star Margaret Josephs may be new to 'Housewives,' but she's a fashion vet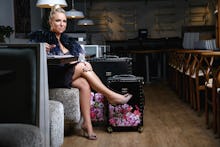 The powerhouse in pigtails aka Margaret Josephs didn't enter the The Real Housewives of New Jersey scene with a whimper, that's for sure. Immediately upon arrival, she went toe-to-toe with the friend who brought her into the fold, Siggy Flicker. The cause of the drama? Siggy's lack of invite to a ceremony Josephs arranged on the beach paying tribute to loved ones the ladies had lost. But that's all inside Housewives drama.
And while she may be new to the Housewives cinematic universe, Josephs is no newbie to the fashion scene, having founded her line Macbeth Collection nearly two decades ago. "I started at my kitchen table doing homemade decoupage," she said of the line, which she described as "preppy bohemian." "We have everything from cosmetic bags to office accessories to luggage," Josephs said, describing her line as "affordable luxury." Josephs joins past housewives including LuAnn DeLesseps, Nene Leakes and Lisa Rinna, who each dabble in design.
"Listen, we've had headaches, I've had some lawsuits," she said, referring to a $12 million lawsuit from clothing company Vineyard Vines. "When you're in business as long as I have [been], you take a lot of hits. People see you [as being] successful. They want to take you down ... The business-y side, which is fine to do, is not my favorite part."
Josephs, who was first approached to join the show in 2013 but declined due to what she says, "wasn't the right timing," has been shocked by the amount of air time given to the conversation surrounding her pigtails. "Everyone doesn't have extensions down to their vagina," Josephs said, referring perhaps to her co-stars. "I don't see what the big deal is." Prior to the show, Josephs said she always wore them and nobody ever made a big deal about it.
Now, she has famous folks from Kristen Chenoweth to Lea Michele to Michael Rapaport weighing in. "It's great for my branding. It's iconic," she said with a laugh.
Did she have any reservations about joining a cast known for its wine throwing and table flipping? "It's so hysterical because you feel like you know them already. So when I met them, it was like 'Oh I know them.'" Any reservations? "I was afraid to meet Danielle [Staub, who rejoined the cast this year after exiting the show in 2011], but she is the most warm, nurturing, fabulous woman. She was totally misunderstood."
As for her fraught relationship with Siggy? "She has two roles: hate and hater when it comes to the Marge," Josephs said, referring to herself in the third person — a signature of hers on the show. Is there peace in their future? "She's the kind of girl that makes your vagina hurt," Josephs said, making her second vagina reference within six minutes. "Do I have to paint her toenails? Braid her hair? I'm not sure what she wants to make up with her."
One of Josephs' main storylines this season is the dissolved state of her relationship with several of her step-children from a previous marriage, which she described as "a little tumultuous." As the children got older, the family grew apart. "I am a bit estranged," she said, "God willing it's temporary, from two of my children that were very upset about the divorce ... I do fell horrible, every single day, I'm heartbroken."
Watch Josephs' full interview with Mic below: