Steve Bannon slammed after unleashing anti-Mormon attacks on Mitt Romney at Alabama rally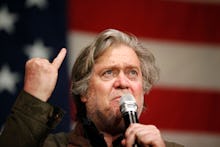 Former White House strategist Steve Bannon unleashed on Mitt Romney during a campaign rally Tuesday night for Alabama Republican Senate candidate Roy Moore, accusing the former senator of hiding behind his Mormon faith to avoid serving in the Vietnam War.
"You hid behind your religion," Bannon said at the rally of Romney's lack of Vietnam service. "You went to France to be a missionary while guys were dying in rice paddies in Vietnam."
The Breitbart News chair, who was an officer in the United States Navy for seven years, went on to attack Romney's sons for also not serving in the military.
"You had five sons, not one day of service in Afghanistan and Iraq," Bannon said. "Where were the Romneys during those wars?"
Bannon's comments were in response to Romney's condemnation of Moore — who is hoping to overcome child molestation allegations in order to win a special election in the state next week.
Romney said on Monday that victory in Alabama for Moore "would be a stain on the GOP."
"No vote, no majority is worth losing our honor, our integrity," Romney tweeted on Monday of Moore.
A number of Republicans condemned Bannon's attacks and took Romney's side.
Utah Gov. Gary Herbert, a Republican, defended Romney's honor.
"@MittRomney and his family are honorable people and represent the very best of Utah values," Herbert tweeted. "Utahns reject the ugly politics and tactics of @SteveKBannon. #Stayout."
Morning Joe co-host Joe Scarborough went off on Bannon's hypocrisy for supporting President Donald Trump — who got multiple deferments to not serve in Vietnam — but attacking Romney.
"Donald Trump got five deferments," Scarborough said Wednesday morning. "He got deferments for bone spurs and the New York Times reported that on the day he graduated from college — from an Ivy League college after getting five deferments — on the day he graduated from college, 40 Americans were killed in Vietnam on that one day alone. And here we have in Alabama, Steve Bannon daring to talk about deferments?"
On Tuesday night, Scarborough had defended Romney on Twitter.
"Mitt and Ann Romney are two of the most decent, honorable people I have met in public life," Scarborough tweeted Tuesday night. "They have raised a wonderful and loving family. I am proud to call them friends."
Tim Miller, a Republican strategist, pointed out the hypocrisy of Bannon attacking Romney for not serving in Vietnam, but supporting Trump — who received five draft deferments, and whose sons also never served in the military.
Chet Cannon — a Mormon, former Real World cast member and conservative Republican — also condemned Bannon's attack.
"Bannon slamming Romney for serving a Mormon mission is pathetic," Cannon tweeted. "He doesn't have a clue what it's like. It's NOT a vacation. Yes, Mormon missionaries are imperfect, but I'll say this about all of my companions: Day in/day out, for 2 years, they weren't thinking about themselves."