Rihanna's Fenty Beauty is more than a makeup line. It's a community of empowerment.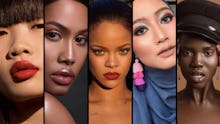 We knew from the very beginning that Rihanna's Fenty Beauty was going to be groundbreaking. With an extensive foundation shade range right from the start, highlighters and lip glosses crafted to compliment all different complexions, and campaigns starring models of various shades and shapes too, Rihanna has shown that she's not messing around when it comes to flipping the makeup industry on its head.
"When I first started creating the brand and making foundation, it wasn't that deep for me," Rihanna admitted at Vogue's Forces of Fashion conference in October. "The first woman I ever saw put makeup on her face was a black woman. That's my mom. So when I'm thinking of my customer, that is one of my customers and I wanted everybody to feel like they can come and be a part of Fenty Beauty."
And come they did, with the company valued at $72 million after just one month of sales. A less discussed result of this highly popular, inclusive makeup line is that Rihanna has inadvertently created an online community that empowers and supports one another.
The most recent example of this came just days ago.
Before this week, Grace Boye aka Naa Atswei, who goes by @n0bleprincess on Instagram, was insecure about the size of her lips. She thought they were too big to wear bright red or pink lipstick. It was a sentiment she shared on Fenty Beauty's Instagram page, after seeing a picture of blogger Aysha Harun rocking Fenty's Stunna lip paint, which is a bright red.
"I want to try this out soo bad," Boye wrote. "I've been told red doesn't suit me... my lips are too big..."
Swiftly, Fenty Beauty's followers rushed to support Boye and her lips.
"Your lips are perfect, whoever told you that is dead wrong!" one commenter wrote, with others chiming in with "girl you are stunning" and "To me, the color is even more bold and beautiful with fuller lips."
Then the Fenty Beauty account commented in response: "This red is for EVERYONE," and posted the string of responses in a post that's gained more than 102,000 likes.
"The Fenty Beauty sisterhood is real!!" Fenty Beauty wrote. "We [heart] y'all."
Sisterhood. That's what scrolling through Fenty Beauty's social media feeds feels like. A critical part of this sisterhood too is that Rihanna is in it herself. In response to Fenty's post, Rihanna left a stream of sweet emojis.
According to BuzzFeed, Boye, who Mic has reached out to for comment, is now directly in touch with the Fenty Team.
This stands in stark difference to other beauty moguls like Kim Kardashian West and Kylie Jenner. They are hands-on, like Rihanna, and constantly repping the brand, like Rihanna. But Rihanna, through thoughtful marketing, an attention on inclusiveness and a need to constantly connect with fans, has ended up creating a sisterhood of beauty-lovers online, who can scroll through Fenty's feed and see people like them, in different shades, shapes, genders and identities, all rocking the same makeup.
Just recently, transgender model Leyna Bloom popped up in the Fenty Beauty feed too.
This kind of sisterhood existed before Boye though, of course. When Fenty launched, a woman with albinism experienced the same kind of comfort from this community.
For years, Krystal Robertson had struggled to find a foundation that matched her light skin tone. Then Fenty Beauty came along, and she found her match.
"I'm freaking out!!!" Robertson wrote on Instagram, holding the foundation. "Rethinking all the times I ended up orange... it's a new world. Great job Rihanna."
The post swirled around the internet, with Fenty fans again throwing their support behind Robertson, and commenting on her Instagram post. Then, Rihanna showed her support by posting one of Robertson's posts on her own Instagram story.
In celebrating her makeup being used by a wide variety of people, Rihanna shows her millions of fans that there is no one definition of beautiful.
That in turn has created a community that redefines "beauty" outside the norm of tall, white, thin and blonde, and continuously celebrates displays of body diversity, whether the people in these pictures are curve or have a gap-toothed smile or have dark skin.
Think about what that does for the people in these images Fenty Beauty posts too: Too many people feel like they are not beautiful because they never see someone who looks like them labeled as "beautiful." The Fenty community — including Rihanna herself — tells people of all shades and sizes, yes, of course they are beautiful, and builds confidence and self-worth.
In a world of darkness and doubt, Rihanna is building a community bonded together by a love of makeup and an assurance that they are beautiful, worthy and should pass that feeling on.