Kirstjen Nielsen as head of DHS shows a tightening of Kelly's grip on Trump administration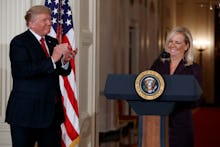 Kirstjen Nielsen — President Donald Trump's pick for Secretary of Homeland Security — was confirmed by the Senate in a 62-37 vote Tuesday, further consolidating chief of staff John Kelly's power within the administration.
Nielsen, Kelly's protégé, now takes over the DHS as Trump looks to make his long-promised border wall a reality and to continue cracking down on immigration.
The department will play a major role in those efforts, as well as in the continued recovery of storm-devastated Texas, Florida and Puerto Rico.
Nielsen was Kelly's chief of staff when he headed the department and followed him to the White House, where she served as his principal deputy chief of staff. She was viewed as his no-nonsense gatekeeper there, filtering information from aides to the chief of staff, who then decides what to pass along to Trump, according to the Washington Post.
"Congratulations to Kirstjen Nielsen on becoming the sixth Secretary of Homeland Security," acting secretary Elaine Duke said in a statement Tuesday. "Ms. Nielsen is a homeland security expert with a deep understanding of the issues facing the Department and is well-positioned to lead us into the future."
Kelly's power behind the scenes grows
Nielsen's appointment had been viewed as a sign of Kelly's tightening grip on the administration since replacing Reince Priebus as Trump's chief of staff in July.
Tasked with the Sisyphean task of containing Trump, Kelly has for months been weeding out White House officials tied to his predecessor. The promotion of his protégé, Nielsen, to the top post of the DHS has been viewed internally as the retired general continuing to exert his influence on his former department.
That concerned some Democrats, who tried to block her confirmation.
"Throughout her confirmation process, Ms. Nielsen failed to demonstrate that she would provide the steady, experienced leadership — free from political interference from the White House — that the department needs," Sen. Maggie Hassan (D-N.H.) said in a statement Tuesday.
The 37 votes against Nielsen all came from Democrats. Sen. Lamar Alexander (R-Tenn.) did not vote.
Nielsen, who served on former President George W. Bush's homeland security council, also appears to be facing opposition from the far-right nationalist wing of the Republican party.
After her confirmation, Breitbart News, the alt-right mouthpiece run by former Trump strategist Steve Bannon, mocked her as "Lady DACA" — a reference to her assurance to Sen. Kamala Harris (D-Calif.) in November that recipients of the Deferred Action for Childhood Arrivals program would not be a priority for deportation in her department.
That statement failed to allay the concerns of Harris — who still voted against Nielsen, who said in a statement that she "equivocated" on Dreamers — and earned her the scorn of the Bannon wing, which has characterized her as a threat to Trump's "populist-nationalist agenda" and an ally of the "Never Trump" movement.
"Not only does Nielsen's prior experience run contrary to Trump's populist-nationalist agenda on immigration, but her current views on illegal immigration and amnesty for illegal aliens ignore the president's pro-American agenda," Breitbart stated Tuesday.
Bannon was ousted from the White House in August amid scrutiny from Kelly.
Trump has repeatedly praised Kelly, a retired general, but has also reportedly defied his apparent attempts to tame the chaos on a number of occasions.
The Post reported in late August that Trump continued to speak with Bannon by phone behind Kelly's back, and the Wall Street Journal reported this week that the president frequently gives aides assignments that he asks them to keep secret from his chief of staff.
Nielsen is expected to be sworn in sometime in the next few days, according to the DHS.