Best places to work in 2018: These 10 top companies get the highest marks from employees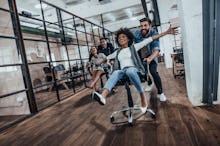 For the third time in eight years, Facebook employees have submitted enough positive reviews to name the company the best employer in America, according to the latest ranking by job search site Glassdoor. Each year, Glassdoor uses worker assessments on issues like compensation, benefits and company leadership to rank the 100 best workplaces in the country.
As you might expect, high compensation was a common theme, with the top three slots dominated by high-paying management consultancies and technology companies, like Facebook and Bain Consultancy, that hire lots of software engineers. But not all the employers on the list require a coding or business background: Companies in the nonprofit sector, retail and even the fast-food industry all made the top 10.
To arrive at its findings, Glassdoor used the marks given by employees across six different categories and filtered them according to the quality and quantity of a company's written reviews. All ratings occurred between November 2016 and October 2017, and only companies with at least 1,000 employees and 75 ratings were considered for the top 100 list.
Thinking of a career change? Whether you're trying to make bank or are simply looking for the right work-life balance, these 10 employers get some of the best reviews from employees.
10. Ultimate Software
Average annual salary for software engineer: $94,411
Employees at this mid-sized human resources and payroll management company rave about CEO Scott Scherr, who was one of Glassdoor's highest-rated CEOs in 2015 and 2016. More than a quarter of the company's 3,700 or so employees are millennials, Fortune reported, and many employees work out of the firm's headquarters in sunny Weston, Florida — roughly an hour's drive from Miami.
9. St. Jude Children's Research Hospital
Average annual salary for staff scientist: $72,739
Employees of St. Jude's love their mission-oriented work, and 98% of them approve of CEO James Downing. St. Jude's main campus is also in Memphis, which Forbes recently named one of the happiest cities to work in, though there are several affiliated offices throughout the South.
8. World Wide Technology
Average annual salary for network engineer: $72,405
Software firm World Wide Technology is one of the largest private companies in the U.S., with more than 4,000 employees and $9.3 billion in revenue in 2016, Fortune reported. Based in in St. Louis with locations across the globe, the firm landed on Glassdoor's list for the third consecutive year in 2017. Perks like onsite medical care, free massages and treadmill desks also help keep workers happy.
7. HubSpot
Average annual salary for software engineer: $107,519
Marketing automation firm HubSpot has appeared on four of Glassdoor's last five best places to work lists. Based in Cambridge, Massachusetts, the company's software engineers earn six-figure salaries on average. One minus? Some employees left negative reviews about the company's work-life balance, citing long hours.
6. Lululemon
Average annual salary for store manager: $58,253
The athletic and leisurewear retailer gets high marks for work-life balance and perks, particularly fitness benefits that include a $225 preloaded Visa card toward monthly workouts, according to one worker. However, it's worth noting that 38 employees complained on Glassdoor about receiving lower commissions in 2017. Despite the complaints, Lululemon has made the list of highest-rated employers for the second year in a row.
5. Google
Average annual salary for software engineer: $126,713 per year
No surprises here: This is Google's 10th appearance on Glassdoor's list, where it regularly lands among the 10 highest-rated U.S. employers. Corporate headquarters are in Mountain View, California, but the tech firm's more than 70,000 employees are spread out all over the world. Employees love the perks, which include luxurious amenities and copious free food, but also complain about work-life balance.
4. In-N-Out Burger
Average hourly wage for associate: $12.27
In-N-Out is a popular place to work, with employees praising the company for above-average pay for the fast-food industry and for making it easy to climb the career ladder. Local media reported the average annual salary for an In-N-Out store manager was more than $120,000 in 2012, close to three times the national median salary for restaurant managers.
3. Boston Consulting Group
Average annual salary for consultant: $145,184
This is the third consecutive year Boston Consulting has taken the third spot in Glassdoor's rankings. Employees point to a generous health care plan and maternity and paternity leave as the best perks, but as you might expect from a consulting firm, employees also complain about long hours.
2. Bain & Company
Average annual salary for consultant: $138,885
Bain & Company has been named Glassdoor's best employer in the country three times, for the years 2017, 2014 and 2012. The consulting firm pays high salaries and has generous parental leave benefits, but employees also report long hours and a work-life balance that fluctuates depending on workload.
1. Facebook
Average annual salary for software developer: $126,780
Facebook frequently appears in Glassdoor's rankings, though this is the first time since 2013 the social media giant has claimed the top spot. Facebook employees are big fans of CEO Mark Zuckerberg, but also say work-life balance can be a problem. The perks are impressive, however, including 20 days of bereavement leave following the death of a family member.
Sign up for the Payoff — your weekly crash course on how to live your best financial life.