Another woman has accused Al Franken of sexual misconduct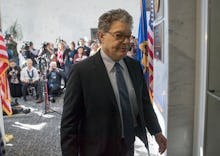 A seventh woman has accused Minnesota Sen. Al Franken of sexual misconduct, saying that Franken tried to forcibly kiss her in 2006, Politico reported on Wednesday.
The woman, whose name has not been made public, said that Franken tried to kiss her at a radio show taping in 2006. She was in her mid-20s, and was working as a congressional aide. The unnamed woman told Politico that her boss had just left the studio, and she was preparing to leave as well, when Franken tried to kiss her.
"He was between me and the door and he was coming at me to kiss me. It was very quick and I think my brain had to work really hard to be like 'Wait, what is happening?' But I knew whatever was happening was not right and I ducked," she told Politico. "I was really startled by it and I just sort of booked it towards the door and he said, 'It's my right as an entertainer.'"
The woman said she told only a few people about the incident — two of whom corroborated her story to Politico — but said she was moved to share her story after the release of President Donald Trump's Access Hollywood tape, in which he bragged on a hot mic about grabbing women without their consent.
"When it really started impacting me in more of a 'I'm really angry about this' way was last fall when the Trump tape came out," the former aide said. "Hearing Donald Trump say essentially the same thing that Al Franken said to me, which was 'It's my right as an entertainer,' that was a real trigger," she told Politico.
Franken denied the latest accusations in a statement to Politico, saying, "This allegation is categorically not true and the idea that I would claim this as my right as an entertainer is preposterous. I look forward to fully cooperating with the ongoing ethics committee investigation."
Franken has responded to several other accusations of sexual harassment and misconduct by apologizing, but has maintained that his memories of the incidents differ from those of the women who have accused him.
The latest accusation comes the same day Time announced that its 2017 Person of the Year is the many women — and some men — who have shared their stories of sexual assault in what has become known as the #MeToo movement.
It also comes the same week that the Republican National Committee decided to resume financial support of Roy Moore's campaign in the Alabama Senate race despite the fact that Moore has been accused of sexually harassing and trying to "date" teenage girls.