Hims is opening up the conversation about men, health and beauty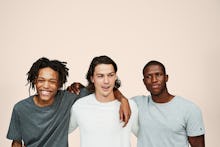 Back in college, Andrew Dudum saw firsthand what happens when a guy thinks he may be experiencing a super-normal yet stigmatized health issue — hair loss, STDs, acne, high blood pressure — and doesn't have access to a doctor he's comfortable with. All those things, according to Dudum, sent men to panicked, incognito Google searches at 2 a.m.
So in 2017, Dudum set out to create a brand that opens up the conversation about men, health and beauty. The resulting brand, Hims, which launched in November, is a men's wellness brand that offers discounted vitamins, medication and shampoos aimed at stopping hair loss, medication for erectile dysfunction and, soon, specialized men's skincare.
Everything that ails men throughout their lives is Hims' specialty, with a focus on customer education.
"Hims set out to figure out what's the best products that are backed by science, and how do you break down the barriers in why people [aren't] caring for themselves?" Dudum said in an interview with Mic. "How do you educate them? How do you get them prescriptions for medication that don't involve them paying a lot of money or [having] really uncomfortable conversations?"
While women are regularly pandered to by self-care-focused companies, whether it be haircare, skincare or makeup, men have largely been left out of the self-care conversation. Dudum thinks that stems from the idea that seeking help is inherently emasculating.
"I think culturally it has not been normal for men to be proactive about their care and self-care," Dudum said. "Especially around things that are not acute medical issues. If a guy breaks his leg, he goes and sees a doctor. If a guy's cholesterol goes up, he eats like one less cheeseburger a week. But I think that's changing."
To Dudum, brands are changing how they approach men and women by addressing them in basically the same manner. The internet is also helping open up this conversation between men and health, he said.
"I think there's this general access to information that is starting to happen," Dudum said. "When people start to take more ownership of themselves, that's [a] trend that's great for us. And people feel more empowered to take care of themselves and be well."
To increase the chances of Hims' products connecting with customers, Dudum put a lot of time into the packaging's minimalist design as well as making something as basic as a pill taste — and feel — not terrible.
"We're maniacally focused on beautiful products," Dudum said. "Products themselves that people want to use every day, that taste great and look great, because the consistent use is what makes the medicine work."
Hims is entering the market at an interesting time and trying to lead the way to a more educated community of men who aren't as hesitant to reach out to professionals about their own issues. On Hims' website, men can also read the company blog that addresses many medical concerns, see treatment plans and ask Hims various health-related questions.
"I think as long as we can continue to educate guys across a spectrum of issues and get them the best care, then we're succeeding," Dudum said. "A lot of people look at it and say, 'Oh, this is some millennial pink brand,' but we're looking at categories that are insanely important to you when you're 50. They love the brand not because it's not millennial pink, but because it's a design they're proud to see on their shelves.
"It's a brand they start using in their early 20s and continue to use throughout their lives. I don't think there's a brand out there yet that has succeeded in pulling that off."