Celebrate this wave of male harassers finally facing consequences with a sweet little sweatshirt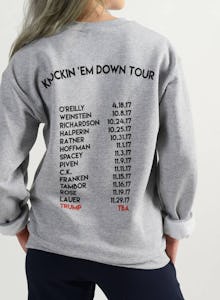 Arguably one of the only bright spots in this hellish year of 2017 has been this opportunity to see male harassers and abusers continuously going down. At last, men who have abused, harassed and assaulted people for literal decades — like Bill O'Reilly, Harvey Weinstein, Louis C.K. and Matt Lauer — are facing consequences, including getting fired and publicly shamed.
The glory of it all.
Now this moment in history has been memorialized with a T-shirt and sweatshirt. Courtesy of the Brooklyn-based clothing line Meg, which has store locations in New York and Toronto, you can now buy sweatshirts and T-shirts that read "Another one bites the dust" on the front and then on the back, look more like a concert tour shirts, with "Knockin 'Em Down Tour" printed above the last names of some of the most notable outed male harassers and the dates their careers came to a screeching halt.
Al Franken, Jeffrey Tambor and Charlie Rose are included, with a line for Trump, in red, left with a "TBA" or "to be announced."
According to Meg founder Megan Kinney, the idea came up from the natural conversations she had been having with women, as well as her design assistant Alica Riguzzi.
"We were instigated by our true and utter dismay for this ongoing falling of men and then of course, looking for the ultimate which is Trump," Kinney said. "One day Alica said, 'I'm dying to make this sweatshirt,' and we all looked at each other and went, 'Oh my god, that is amazing.' It was the day Matt Lauer was fired."
Despite the subject being serious, Meg's shirts do have a bit of comical edge thanks to that tour T-shirt styling, which Kinney thinks makes sense. "We thought it was interesting because it was acknowledging every day one guy went down and the dates and it felt like it screamed tour T-shirt," Kinney said. "It does feel a little comical, but also very fitting for the time. It's a topic of conversation for women on a daily basis."
Kinney made sure the shirts give back to charity as well, with $10 from every sale going to the New York Alliance Against Sexual Assault and Women's Support Network of York Region, Ontario.
"Through devastation we've really found a clear voice and it's been a beautiful journey," Kinney said. "The donation is because all of this should not be for naught. It's good we can poke fun and have a little humor but let's make what we do useful."
Now given that Kinney finalized the design amidst Lauer's fallout, there have been other notable men whose careers have come tumbling down too. So, will they keep on updating the shirt?
"We've already missed like three guys!" Kinney said. "We conceptualized this T-shirt literally one week ago and fast-rushed the production of it and so, I think there were people who were forgotten. If it feels like there needs to be an update then we will do an update."
She also assured us that if Trump does end up seeing any kind of consequence as a result of his many sexual misconduct allegations, she'll do another sweatshirt.
"That would be an amazing sweatshirt," Kinney said. "You can guarantee that can be produced because that would be great."