Where do all the weird food holidays come from?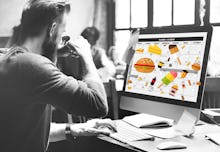 Ever wonder who decided that National Fried Scallops Day would be Oct. 2? Or that Corn on the Cob Day would be March 11? More importantly, why do these strange holidays exist in the first place?
Fifty-five-year-old Marlo Anderson is the mastermind behind the National Day Calendar website, the de facto source that determines — and explains — these bizarre holidays. The idea for the site came to Anderson in 2013, when he wondered how National Popcorn Day came to be and a deep web search yielded nothing. Four years later, he runs a business where he charges a minimum of $1,500 to help individuals and companies create their own silly holidays, from Baked Alaska Day (Feb. 1) to Zucchini Bread Day (April 25).
"We live in a day of information. How can you not find information about National Popcorn Day?" he said over the phone. "That kind of got me started and I recruited a friend's help and the site blew up very quickly." He spent two years researching and writing about obscure holidays on his nights and weekends. The friend who helped him with the write-ups dropped the project six months in, citing too much stress and pressure.
Anderson has a background in technology and entrepreneurship, and he currently owns Zoovio, a company that digitizes video tapes, and a computer repair shop in his hometown of Mandan, North Dakota. Anderson officially launched National Day Calendar as a company in August 2015. The site rapidly became one of the Internet's go-to sources of information about newfangled holidays. (Other older sites include Foodimentary, Time and Date, Holiday Insights and Days of the Year but such sites don't seem as search-friendly as Anderson's.) The company now employs 40 people in several locations including Mandan, Las Vegas and Los Angeles.
National Day Calendar now tracks around 1,500 holidays, and often gives a brief history of the days and recommendations for how to celebrate. The origin stories vary widely: the site notes that National Day of the Horse was recognized by the U.S. Senate while Astronaut Day was established by Anderson's team after uniphi space agency, a marketing agency, approached National Day Calendar.
Anyone can submit a proposal for a "day." National Day Calendar gets over 20,000 applications for new days each year, and they're reviewed by a four-person committee that has to unanimously approve them, Anderson explained. Around half of the National Day Calendar applications come from organizations, and half from individuals. According to the website, Anderson's team is only accepting submissions from companies at this time due to a "substantial backlog."
The cost of an official holiday proclamation (including a press release, inclusion on the website, a framed certificate and a media alert) is $1,500 to $4,000 for non-profits. Anderson noted the price is higher for a corporate sponsor, but he wouldn't name the price. His team adds an average of 30 new causes to its repertoire of holidays every year. They've added more somber days, too — like National SAFE Day, which commemorates firearm safety. Anderson said the day was created by a couple who had lost their young daughter because the daughter's friend had picked up a firearm and accidentally shot the daughter.
And Anderson points out that some of the existing days he included on his calendar might be retired as they lose cultural relevancy. "Take National Bittersweet Chocolate Almond Day. It was the 1850s when that day came out; the technology behind covering the almonds was a very big deal that the time," Anderson said. "By today's standard, it doesn't mean a whole lot."
A history of holidays
Decades before Anderson's site unleashed lighthearted holidays on the Internet, two brothers had the bright idea to create a holiday handbook. Since 1957, Chase's Calendar of Events has catalogued holidays as a "single reference source" for holidays and dates.
National Calendar Day's 1,500 days is a paltry offering compared to Chase's 12,500, which include "worldwide holidays and festivals, civic disobediences, historic anniversaries, famous birthdays and more." The 2018 book costs a whopping $89, and Chase's does not have a free online version. (Imagine paying for the knowledge that a "Pay a Compliment Day" exists.)
One of the earliest national days was National Raisin Day, which was launched in 1909 by the raisin growers of California, who publicized the event in newspapers and encouraged restaurants to serve raisins. In the '80s, Congress went on a holiday spree. Commemorative legislation — like establishing National Bowling Week and Ice Cream Month and other relatively innocuous holidays — made up 41% of the bills passed and signed into law from 1985 to 1986, under President Ronald Regan.
In January 1995, the Republican-led House of Representatives banned legislation around such holidays. The holiday laws allegedly "hindered" Congress from dealing with "more pressing legislative issues," a 1999 report on commemorative legislation stated. However, the Senate is still allowed to commemorate holiday "sentiments" through resolutions that aren't signed into law. A recent example: the U.S. Senate passed a resolution to designate Dec. 13 as National Day of the Horse, to honor and remember how horses contribute to America.
Though Congress has bowed out of passing laws about silly holidays, it hasn't stopped brands from going DIY and establishing holidays with National Day Calendar, or through their own self-promotion. IHOP launched National Pancake Day in 2006, underwear company Freshpair launched National Underwear Day in 2003, the National Bobblehead Museum launched National Bobblehead Day in 2015 and plenty others have created faux holidays (faux-lidays, if you will) to market products. And then, of course, brands like Dunkin' Donuts and Starbucks jump to publicize days like National Coffee Day. (That's one of the most popular "days," Anderson said.
All this commotion around celebrations is about to become the subject of a feature film. Anderson was excited to share that National Day Calendar is helping create a "heartwarming" movie script, though no information has been shared on who might produce or distribute it. The premise: on New Years Eve, a woman drunkenly resolves to celebrate every holiday "and the hilarity that ensues after that" but then ends up honoring days like Cancer Awareness Day and Foster Child Day, Anderson said.
It's the silly factor of these bizarre holidays — Ugly Sweater Day, Talk Like a Pirate Day, Taco Day — that gives people an excuse to eat more, act goofier and take a break from the daily grind. A compulsion to honor the little things also motivates people to keep suggesting new holidays. Adrienne Sioux Koopersmith, from Chicago, has been submitting holiday ideas to Chase's Calendar of Events for nearly three decades, NPR reported. Her ideas include "Take A Starving Artist Out to Lunch Day" "Pay A Compliment Day" and "International Teen Idol Day."
"The ordinary things in life I have found are just as important as winning the lottery because these are the little things in life that get you through to the next moments," she told NPR.
Anderson said that his company celebrates every day with whatever food and novelties are supposed to be honored.
On National Absurdity Day, for example, employees rode tricycles down the hallways. "It's kind of crazy," Anderson said. "I feel obligated to eat the donuts and drink espresso — I think I've gained 30 pounds!"