Wave of Democratic senators call on Al Franken to resign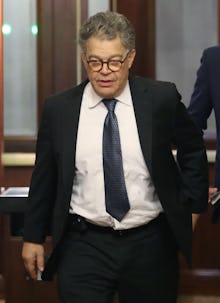 A wave of Democratic senators on Wednesday called on fellow Democratic Sen. Al Franken to resign in what appears to be a major crack in the dam of the Minnesota senator's support in the wake of sexual harassment allegations.
Sens. Kirsten Gillibrand (D-N.Y.) and Mazie Hirono (D-Hawaii) were the initial Democratic senators calling today on Franken to resign after yet another woman came forward to accuse Franken of unwanted sexual advances.
The list ballooned throughout the day, and now includes: Maggie Hassan (D-N.H.), Patty Murray (D-Wash.), Kamala Harris (D-Calif.), Claire McCaskill (D-Mo.), Tammy Baldwin (D-Wis.), Sherrod Brown (D-Ohio), Bob Casey (D-Pa.), Dick Durbin (D-Ill.), Joe Donnelly (D-Ind.), Debbie Stabenow (D-Mich.), Heidi Heitkamp (D-N.D.), Maria Cantwell (D-Wash.), Pat Leahy (D-Vt.), Dianne Feinstein (D-Calif.), Ron Wyden (D-Ore.), Michael Bennet (D-Colo.), Tom Carper (D-Del.), Tammy Duckworth (D-Ill.), Martin Heinrich (D-N.M.), Amy Klobuchar (D-Minn.), Jeff Merkley (D-Ore.), and Sen. Bernie Sanders (I-Vt.).
On Wednesday evening Senate Minority Leader Chuck Schumer (D-N.Y.) added his voice to the chorus of Democratic senators calling for Franken's resignation.
"While Sen. Franken is entitled to have the Ethics Committee conclude its review, I believe it would be better for our country if he sent a clear message that any kind of mistreatment of women in our society isn't acceptable by stepping aside to let someone else serve," Gillibrand said in a Facebook post.
Hirono echoed similar sentiments.
"I've struggled with this decision because he's been a good senator and I consider him a friend," Hirono said in a statement calling for Franken's resignation. "But that cannot excuse his behavior and mistreatment of women."
Seven women have now accused Franken of either groping or trying to kiss them.
Franken categorically denied the latest accusation, and said he will cooperate with an ethics investigation as he works to rebuild the trust of his constituents.
If Franken resigned, he'd be the second Democrat to step down in the wake of sexual harassment allegations. Rep. John Conyers (D-Mich.) resigned on Tuesday after facing multiple allegations of sexual harassment.
If Franken resigns, Minnesota's Democratic governor would appoint his interim replacement. A special election would then be held in 2018, the winner of which would serve for the remainder of Franken's term.
Republicans, on the other hand, are circling the wagons around members of their party who have been accused of sexual harassment and even child molestation.
President Donald Trump endorsed Republican Roy Moore for Senate in Alabama, despite the fact that Moore faces allegations of harassing a 14-year-old girl and trying to "date" teenagers. Trump privately doubts the accusations from the women who have accused Moore.
And no Republicans have called for Trump to resign, as he faces more than a dozen accusations of sexual harassment.
Dec. 6, 2017 5:14 p.m.: This article has been updated.