James Whiteside teams up with Koio Collective on limited-edition, ballet-inspired sneaker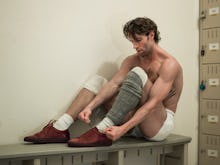 American Ballet Theatre principal dancer James Whiteside knows a thing or two about the importance of a comfortable shoes what with spending the majority of his time at work lunging and plié-ing.
Now Whiteside, whose credits include leading roles in ABT's Serenade After Plato's Symposium and With a Chance of Rain, is teaming up with luxury leather goods brand Koio Collective for the release of a limited-edition satin sneaker, complete with Whiteside's signature claw mark, which he had tattooed on his ribcage a decade ago.
"It represents wearing your scars proudly and learning from some bad things that happened in your life and making them into beautiful things," Whiteside said in an interview. "I'm so happy to be able to share my love of footwear with other people. I think I'm going to be a bit flabbergasted for a while," he said when asked what it's going to see a piece of himself adorned on the feet of strangers.
With only 120 pairs being produced and clocking in at $298, the collab is one of three that the collective is launching before year's end — tattoo artist JonBoy and pro surfer Quincy Davis being the other two.
Whiteside said this is only the beginning with regard to a possible future in design. "I'm a ballet dancer first and foremost," he said. "There are so many opportunities to collaborate on capsule collections for the casual dancer and for people who love dance as much as I do."
Whiteside's fans may recognize him as part of the drag collective The Diary Queens, which he is a member of alongside his partner, RuPaul's Drag Race star Milk, Skim Burley, Linda Lakes and Juggz.
The group has been noticeably MIA for the larger part of 2017. Asked about Ühu's possible resurgence, Whiteside seems optimistic. "Of course," he said. "She's not gone forever. She's just been busy, y' know? Ühu's going to come back in 2018."
In the meantime, check out the Koio Collective's promotional video starring Whiteside.