Al Franken announces resignation amid sexual harassment allegations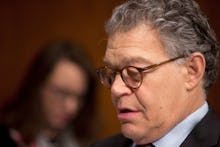 Sen. Al Franken (D-Minn.) announced on Thursday that he's resigning from Congress in the wake of a spate of sexual harassment allegations from at least seven women.
"Serving in the U.S. Senate has been the greatest honor of my life. I know in my heart that nothing I've done as a senator has brought dishonor on this institution, and I am confident that the Ethics Committee would agree," Franken said in a speech on the Senate floor. "Nevertheless today I am announcing that in the coming weeks I will be resigning as a member of the United States Senate."
In his resignation, Franken pointed out the "irony" that he is resigning while President Donald Trump — who has been accused of sexual harassment by more than a dozen women — is still president. He also said his resignation is ironic given that Republican Roy Moore, whom Franken said "preys" on underage girls, is still running for Senate in Alabama "with full support of his party."
"I'm proud that during my time in the Senate I have used my power to be a champion of women," Franken said, trying to craft his legacy. "And that I've earned a reputation as someone who respects the women I work alongside every day. I know there's been a very different picture of me painted over the past few weeks, but I know who I really am."
Franken's resignation comes one day after a wave of Democrats called on the senator to step aside.
After the first allegations surfaced in November, Franken apologized to the women who accused him and vowed to earn back the trust of his constituents. He also said he would willingly cooperate with an Ethics Committee investigation into his behavior.
However, after a seventh woman came forward to accuse Franken of trying to forcibly kiss her, several Senate Democrats decided enough was enough and publicly asked for his resignation. The bursting of that dam helped lead to Franken's decision to surrender his seat.
Franken's resignation is an abrupt end to a career that seemed to be on the rise. His pointed questioning in hearings caused the Trump administration strife, including his tripping up of now-Education Secretary Betsy DeVos during her confirmation hearing and his questioning of Attorney General Jeff Sessions — which led to allegations that he lied under oath about his communications with Russians during the 2016 presidential election.
With Franken's resignation, Minnesota Gov. Mark Dayton will now appoint Franken's replacement, which means the seat will remain in Democratic hands.
Dayton is likely to face pressure to appoint a woman, with possible candidates including Minnesota Lt. Gov. Tina Smith, Minnesota Attorney General Lori Swanson and Rep. Betty McCollum (D-Minn.), according to Talking Points Memo's Cameron Joseph.
A special election will follow in 2018, the winner of which will serve the remainder of Franken's term.
Franken is now the second Democrat to resign over sexual harassment allegations. Rep. John Conyers (D-Mich.) resigned Tuesday after multiple women accused him of sexual harassment.
The resignations will put pressure on Republicans who have embraced Trump, despite the fact Trump himself has been accused of sexual harassment.
Some Republicans, led by Trump, have also embraced Republican Senate nominee and accused child molester Roy Moore. In light of Trump's official endorsement Monday, the Republican National Committee reversed an earlier decision to stop financially supporting Moore's campaign. Alabama voters head to the polls Tuesday.
Meanwhile, Republicans have been quiet about Rep. Blake Fahrenthold (R-Texas), who admitted to using $84,000 in taxpayer funds to settle a sexual harassment claim from a female staffer. Fahrenthold denies he did anything wrong and said he's paying back the money from the settlement.